Born Suspect: Stop-and-Frisk Abuses and the Continued Fight to End Racial Profiling in America, NAACP (2014)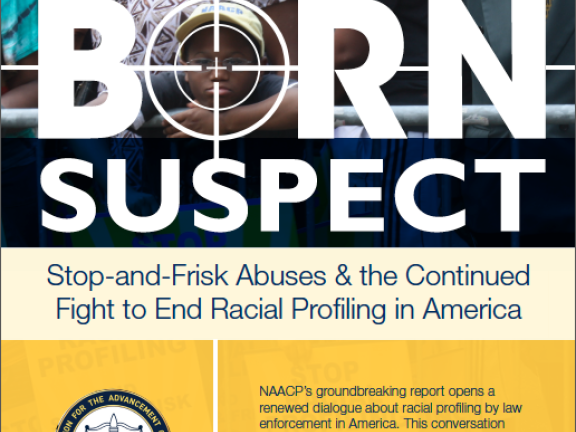 Based on the successful collaborative campaign to pass anti-racial profiling and police accountability measures in New York City, Born Suspect is the NAACP's analysis of racial profiling laws in every state. It includes historical examples of legally sanctioned and extra-legal racial profiling based on race, ethnicity, sexual orientation and gender identity in the United States, an analysis of data from the New York Police Department's stop-and-frisk program, examples of the impact of profiling on those subjected to stop-and-frisk practices, and examples of federal and state programs that encourage profiling nationwide.
Born Suspect lays out a roadmap for planning anti-racial profiling campaigns and makes specific recommendations such as advocating for passage of the national End Racial Profiling Act (ERPA) and calling on the U.S. Department of Justice to update the 2003 Guidance Regarding the Use of Race by Federal Law Enforcement Agencies.
The report also provides resources for advocates including:
• a detailed description of various components of an effective anti-profiling law;
• a model racial profiling bill;
• an Action Alert on the End Racial Profiling Act;
• components of an effective Civilian Police Review Board; and
• a sample Police Misconduct Incident Documentation form.
Copyright Information: CHLP encourages the broad use and sharing of resources. Please credit CHLP when using these materials or their content. and do not alter, adapt or present as your work without prior permission from CHLP.
Legal Disclaimer: CHLP makes an effort to ensure legal information is correct and current, but the law is regularly changing, and the accuracy of the information provided cannot be guaranteed. The legal information in a given resource may not be applicable to all situations and is not—and should not be relied upon—as a substitute for legal advice.