News Release: CHLP, Harm Reduction Coalition, and the National Viral Hepatitis Roundtable Release New Fact Sheet, Announce First National Convening on Viral Hepatitis Criminalization in the United States (2018)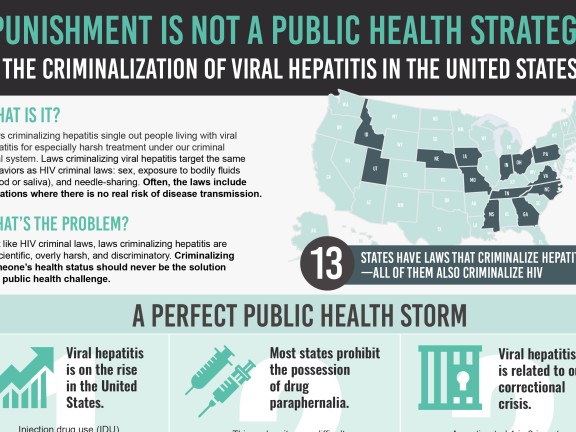 FOR IMMEDIATE RELEASE
CONTACT:
Kate Boulton, CHLP, (212) 430-6733
Mike Selick, HRC, (201) 755-3474
Tina Broder, NVHR, (510) 336-9613
The Center for HIV Law and Policy, Harm Reduction Coalition, and the National Viral Hepatitis Roundtable Release New Fact Sheet, Announce First National Convening on Viral Hepatitis Criminalization in the United States
"Punishment is Not a Public Health Strategy: The Criminalization of Viral Hepatitis in the United States" explains how state laws criminalizing viral hepatitis harm public health
NEW YORK, NY (August 21, 2018) – The Center for HIV Law and Policy (CHLP), the Harm Reduction Coalition (HRC), and the National Viral Hepatitis Roundtable (NVHR) today released "Punishment is Not a Public Health Strategy: The Criminalization of Viral Hepatitis in the United States" – a fact sheet on viral hepatitis criminalization laws throughout the country. The three organizations also announced plans for a first-of-its kind convening on this topic on November 1 in Louisville, Kentucky.
More than a dozen U.S. states have laws criminalizing perceived or actual exposure to viral hepatitis. Many of these states also restrict patients from accessing curative treatments and limit the availability of syringe services programs (SSPs) for active drug users. These restrictions, in part, allow hepatitis C to remain the nation's deadliest infectious disease. Between 2004 and 2014, the rate of acute hepatitis C infections more than doubled nationwide.
As the rate of viral hepatitis infections continues to climb, more states are actually making the problem worse by introducing discriminatory legislation that criminalizes viral hepatitis exposure. In some states like Ohio, exposure to the bodily fluids of someone with viral hepatitis is already a felony and carries a three-year prison sentence. This year, South Dakota introduced legislation that would have punished exposure to hepatitis C with up to 15 years of incarceration. Although this legislation did not pass, it is indicative of what may be an increasing push toward the criminalization of viral hepatitis.
"These discriminatory laws are out of sync with basic legal principles and inconsistent with current knowledge about what works to promote public health," said Kate Boulton, an attorney at the Center for HIV Law and Policy who leads CHLP's criminal justice strategy. "None of these laws take actual intent to do harm into consideration. And many of these laws even criminalize behavior that poses little or no risk of harm to others."
"The War on Drugs maximizes the harms facing people who use drugs by criminalizing their behaviors." said Mike Selick, Hepatitis C Training and Policy Manager at Harm Reduction Coalition. "Laws that criminalize hypothetical exposure to viral hepatitis will similarly increase the harms people face. We need to create an environment where people who use drugs are supported to get tested and connected to treatment rather than creating more barriers to engagement."
"Laws that criminalize even unintentional exposure to viral hepatitis can only discourage individuals from getting tested and seeking treatment for the disease," said Tina Broder, interim executive director of NVHR. "All individuals living with viral hepatitis deserve access to comprehensive treatment and harm reduction services; criminalizing people's health status undermines our ability to solve this growing public health crisis."
The "Punishment is Not a Public Health Strategy: The Criminalization of Viral Hepatitis in the United States" fact sheet is attached and available online here.
For more information on the convening, contact Arpita Appannagari.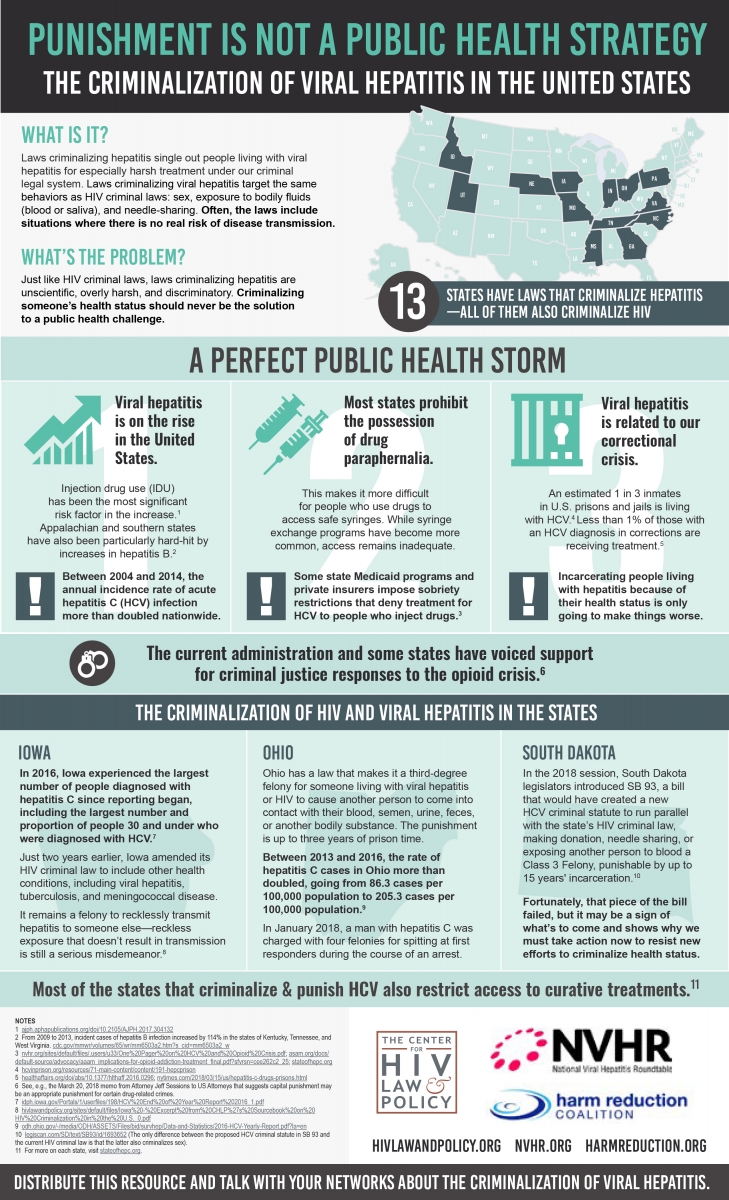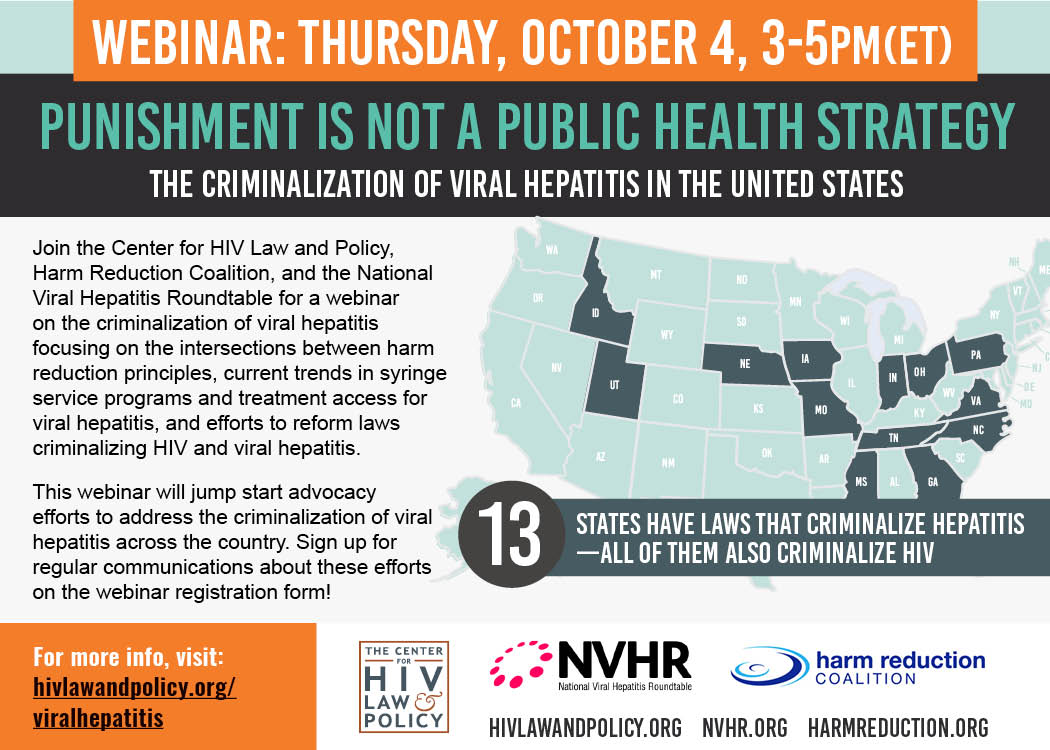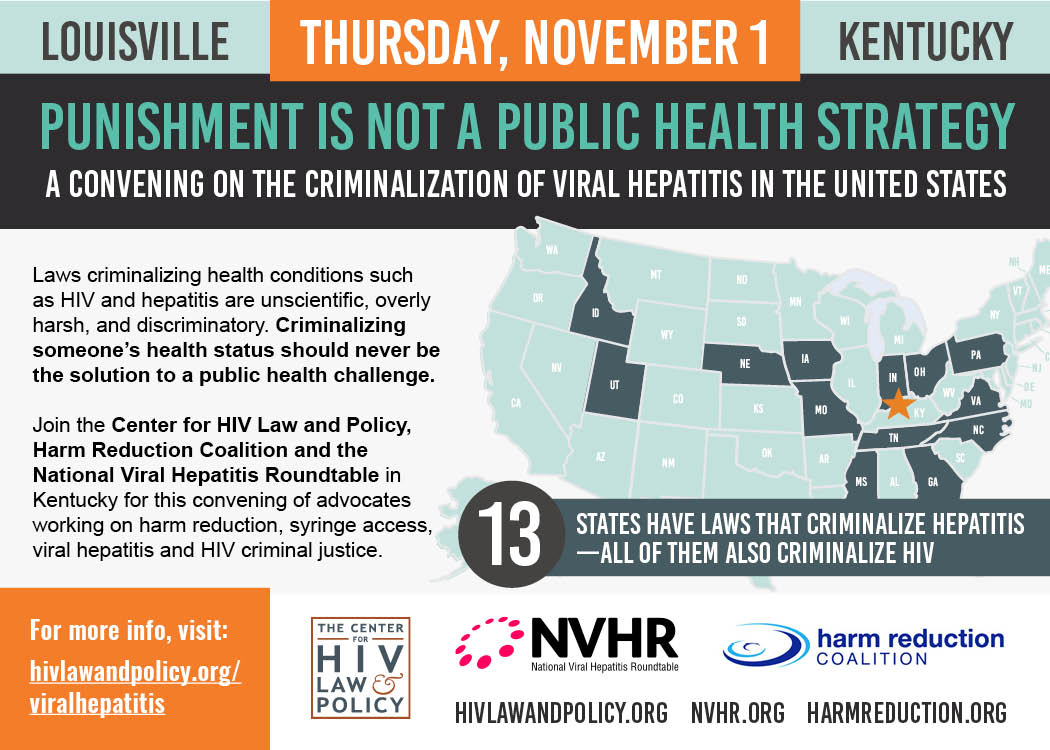 About the Center for HIV Law and Policy (CHLP)
The Center for HIV Law and Policy is a national legal and policy resource and strategy center for people with HIV and their advocates. We support and increase the advocacy power and HIV expertise of attorneys, community members, and service providers, and advance policy initiatives that are grounded in social justice, science, and the public health. We do this by providing an accessible web-based resource bank; cultivating interdisciplinary support networks of experts, activists, and professionals; and coordinating a strategic leadership hub to track and advance advocacy on critical HIV legal, health, and human rights issues. We offer a collaborative approach to the persistent problem of HIV discrimination, and the shortage of trained advocates to address the problem: a national center dedicated to coordinating and expanding the power of HIV advocates. For more information, visit https://www.hivlawandpolicy.org/.
About Harm Reduction Coalition
Harm Reduction Coalition is a national advocacy and capacity-building organization that promotes the health and dignity of individuals and communities impacted by drug use. Our efforts advance harm reduction policies, practices and programs that address the adverse effects of drug use including overdose, HIV, hepatitis C, addiction, and incarceration. Recognizing that social inequality and injustice magnify drug-related harm and limit the voice of our most vulnerable communities, we work to uphold every individual's right to health and well-being and their competence to participate in the public policy dialogue. For more information, visit http://harmreduction.org/.
About the National Viral Hepatitis Roundtable (NVHR)
The National Viral Hepatitis Roundtable is a national coalition working together to eliminate hepatitis B and C in the United States. NVHR's vision is a healthier world without hepatitis B and C. NVHR's work is guided and informed by our beliefs and commitment to: Participation, Inclusiveness, Intersectionality, Health Equity, and Stigma Elimination. For more information, visit www.nvhr.org.
###