The PJP Update, Positive Justice Project (June 2016)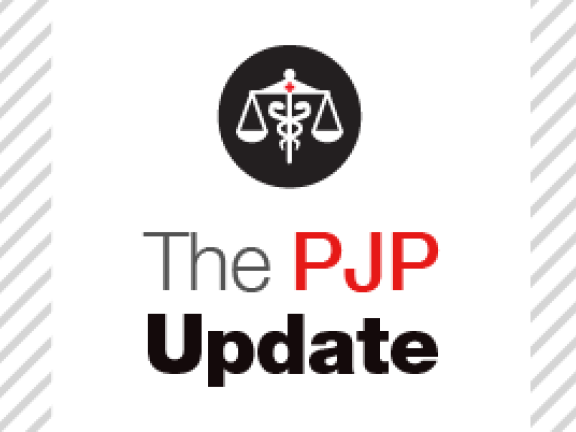 Federal Criminal Justice Working Group Meets
The quarterly meeting of the LGBT/HIV federal criminal justice working group met in Washington, D.C. on May 11th. Highlights from the meeting include formation of a transition planning team to prepare for the next administration, and further planning for a White House convening on LGBT/HIV criminal justice issues later this month. The next in-person meeting will be in September. 
CHLP Staff Present, Make Connections at National HIV is Not a Crime Conference 
CHLP staff attended the HIV is Not a Crime II National Training Academy (HINAC) in Huntsville, Alabama from May 17 – 20th. Several CHLP staff members spoke at plenary and breakout sessions, connected with PJP advocates from around the country and signed up dozens of people to join or start a PJP working group in their state.

Deputy Director Mayo Schreiber observed, "One great part of HINAC was meeting local advocates, including those involved or considering involvement in PJP state advocacy groups. It also was very useful to be able to connect in person with dozens of advocates supporting Michael Johnson [see below for CHLP's work on his case], who was convicted of violating Missouri's HIV exposure and transmission statute and sentenced to a thirty-year term of imprisonment. One of the plenaries explored the racial dimensions of that prosecution and in HIV criminalization more broadly. Participants at an informal breakout session, organized by Charles Stephens, Executive Director of The Counter Narrative Project, discussed ways to support Michael and, most importantly, to identify and support  local Missouri advocates in getting his sentence overturned, reduced, or commuted." 

CHLP founder Catherine Hanssens conducted video interviews of some of our state partners about their experience at the conference. Watch the videos and read more about CHLP at HINAC here.
 
---
State Advocacy Working Group Updates
CALIFORNIA
Californians for HIV Criminalization Reform (CHLR) is focusing work on outreach and education, particularly engaging sex workers and issues that affect them. According to recent research, sex workers account for most of the HIV-related prosecutions in California. California was well represented at HINAC with around 20 attendees. CHLR supported SB 1408, recently signed into law by Governor Jerry Brown, which allows organ transplants between HIV-positive donors and HIV-positive recipients.

If you are interested in joining Californians for HIV Criminalization Reform, please contact Craig Pulsipher at [email protected].
---
COLORADO
Congratulations to the CO MOD Squad! On June 6th, after passing both the House and Senate, SB146 was signed into law by Governor John Hickenlooper. The CO Mod Squad worked diligently for the past two years, and hard and heavy for the last several months. They introduced SB 146, sponsored by Sen. Pat Steadman in the Senate and Rep. Daneya Esgar in the House. They had support from the Colorado Department of Public Health and Environment. 
 
Before the Mod Squad hit the streets, sex work or solicitation of a sex worker with knowledge of HIV infection was a felony; and penetrative sexual assault with knowledge of HIV infection could mean that the sentence for the assault could be tripled. SB 146 eliminated felony offenses involving sex work, while modernizing much of the statutory language concerning sexually transmitted infections in the health code. While the sentencing enhancement for sexual assault by a person living with HIV remains in the criminal code, amendments included in SB 146 reduced the enhancement to twice the original sentence, and requires the prosecution to prove transmission. Regulations that will dictate how the Department of Health interprets these new provisions, particularly with the new inclusion of HIV, will be a very important focus of future advocacy in Colorado.
 
Meetings of the CO MOD Squad are the last Tuesday of the month, 6:00-8:00pm (MT).
Next Meeting: Tuesday, June 28th.
 
If you are interested in information about HIV criminalization or actively participating in the Colorado working group, please contact Barb Cardell at [email protected].
 
---
GEORGIA
The Georgia Working Group had a second in-person meeting in Atlanta on June 2nd to further develop a strategic plan that includes both community outreach and education to address HIV criminalization, stigma and discrimination issues, and to move forward with modernization of the Georgia HIV criminal laws. It was a very energetic meeting with great participation from everyone present. This group of advocates are fired up to change community attitudes about HIV and create a safe environment for PLWHIV to know their status, engage in care, and live full and equal lives without fear of criminalization. With more than 20 Georgia advocates at HINAC, the group was able to meet on the last full day to continue sharing ideas for modernization in Georgia.

The next call and/or meeting will be announced shortly.

If you would like information on HIV Criminalization or are interested in becoming an advocate with the Georgia HIV Criminalization Working Group, please contact Stephen Williams at [email protected]. 
---
---
MISSOURI
On June 3rd the Missouri HIV Justice Coalition convened for a detailed discussion on document revisions as well as strategic planning on best approaches to producing an effective, cohesive message, and to establish consensus on benchmarks and goals for the next two years. As one step towards those goals and strengthening the coalition, the group welcomes all citizens who are living with HIV to actively take part in the coalition's efforts. At next conference call the coalition will continue discussion on revising documents and strategic planning on its "Benchmarks for 2016" and statement of "Goals for 2017," and coalition building over the next quarter. Coalition members who attended HINAC shared their experiences of the event. The overall feeling was that people came away with useful information and resources, opportunities for network expansion and creation of new alliances; as well as the exchange of new ideas and camaraderie among fellow advocates from around the country.
Next meeting: Friday, June 17th, 1:00pm.
If you would like information on HIV Criminalization or are interested in becoming an advocate with the Missouri HIV Justice Coalition Working Group, please contact Stephen Williams at 
[email protected]
. 
---
OHIO
The Ohio working group has reviewed the Ohio laws and made decisions about the changes they would like to see. Meanwhile, the legislatively-created Ohio Criminal Justice Recodification Committee is working on recommendations for a broad set of changes to the criminal code;  we expect the release of those recommendations on or around August 1, 2016. Members of the working group, including CHLP, ACLU-Ohio, Ohio physician members of HIV MA and NASTAD have provided information and analysis to inform the recommendations. The working group will continue preparation for modernizing legislation, including developing talking points, coalition building, and responding to the recommendations of the Recodification Committee. There were several attendees at HINAC. They had a lively planning discussion during the state breakout session.

Next Meeting:  Monday, June 13th at 4:30pm (ET).  

If you are interested in information about HIV criminalization or actively participating in the Ohio working group, please contact Stephen Williams at [email protected].
---
TENNESSEE
The Tennessee working group is reviewing and refining two alternative drafts of a bill to introduce in the 2017 legislature in consultation with staff of the Tennessee Department of Health. Advocates have been involved in ongoing outreach and education for some time and will work on a targeted plan to continue with policy makers, prosecutors, legislators, and community members. 

Next Meeting: Thursday, June 23rd at 11:00am (CT)  

If you are interested in information about HIV criminalization or actively participating in the Tennessee working group, please contact Stephen Williams at[email protected].
---
TEXAS
This recently-formed HIV Criminalization working group continues to focus on developing consensus on message and goals, while planning strategic first steps to challenge the use of assault statutes to prosecute PLWHIV in Texas. This growing group of advocates has real passion to advocate for effective, long-lasting change in Texas.
Meetings are generally held on the third Friday in the month.
If you are interested in information about HIV criminalization or actively participating in the Tennessee working group, please contact Stephen Williams at
[email protected]
. 
---
 WASHINGTON
The Washington working group met and reviewed the most recent draft of the proposed HIV statute and the PJP Guiding Principles. Outstanding work was divided up and they will reconvene to create a specific plan, designate tasks, start coalition building, and reach out to potential sponsors.
If you are interested in information about HIV criminalization or actively participating in the Washington working group, please contact Lauren Fanning at[email protected].
 
CHLP assists criminal defense attorneys in HIV exposure/transmission cases. We are providing help in cases in a number of states across the country. Among the cases we currently are involved in are the Michael Johnson and Nushawn Williams cases in Missouri and New York, and two cases in Ohio. 
MISSOURI
On April 14th, CHLP, with 21 national and state HIV/medical and racial justice organizations, one individual, pro bono assistance from the Gibbons PC law firm, and local assistance from the ACLU of Missouri Foundation, submitted an amicus curiae brief in the appeal of Michael Johnson's conviction to the Missouri Court of Appeals, Eastern Division. In the brief, amici argued that (1) the act violates the Equal Protection Clause of the United States Constitution because it imposes burdens on people living with HIV, by singling them out among those living with other sexually transmitted diseases, without rational justification; (2) the act violates the right to privacy in personal medical information; (3) the act violates prohibitions against discrimination on the basis of a disability; and (4) the sentence of thirty years is cruel and unusual punishment, in violation of the Eighth Amendment, because it is so grossly disproportionate to the offense, due to the change in life expectancy and quality of life for those living with HIV. Mr. Johnson's appellate attorneys filed his appeal on April 19th raising a number of fundamental procedural and constitutional errors. The State of Missouri, having requested and been granted an extension of time to file, has until June 20th to submit its reply brief.

 
---
NEW YORK
On May 6th the Supreme Court of the State of New York, Appellate Division, Fourth Judicial Department, issued a unanimous decision rejecting Nushawn Williams' arguments that his indefinite commitment as a dangerous sex offender was not supported by either law or the factual record. Mr. Williams was indefinitely civilly committed under Article 10 of the New York State Mental Hygiene Law after fully completing his criminal sentences. CHLP filed an amicus curiae (friend of the court) brief in support of Williams, arguing in part that an individual's HIV status cannot be a factor in a determination that the person warrants indefinite commitment. CHLP plans to support his lawyer's motion for leave to appeal to the New York Court of Appeals and also file a separate motion for leave to participate in the Court of Appeals as amicus curiae. Briefs and related papers likely will be filed in late June 2016.

 
---
OHIO
In the first of the Ohio cases CHLP recently took up, we are thrilled to report that the defendant was  sentenced to a term of probation and HIV-related community service by the court. The defendant, who is living with HIV, had pled guilty to one count of felonious assault under Ohio's criminal HIV exposure and transmission statute and faced a term of imprisonment of two to eight years. (Last year, the same court sentenced a young woman convicted of similar charges to seven years incarceration. The prosecutor in that case had recommended four to six years.)

Throughout this case, the defendant was fortunate in having support from an unwavering advocate, Linda Titus, the Child and Family Services Director for the Ursuline Sisters HIV/AIDS Ministry, and her colleagues at the ministry; and extraordinarily caring and knowledgeable doctors. CHLP provided the defendant's attorneys with pre-trial and sentencing memoranda and strategy assistance and coordination. You can read the perspective of Ms. Titus, in a letter of thanks she sent to the young woman's advocates and community, describing what is, and hopefully will continue to be, the lasting effect of the case (the names in the letter have been replaced with initials--AR for the defendent and RR for her brother--to protect her and her family's privacy):
Thank you for your listening ear, patience, knowledge, compassion and time. When we come together with our unique quirks, personalities, and skills to support a common cause, we can make great things happen. I do not, for a minute, think we were a chance combination. Our efforts will have the ripple effect of building up, rather than tearing apart, several lives.
 
With continued support, guidance, education and trusted relationships, I know AR will contribute to our society. Her daughter [AR was pregnant when sentenced] will have the demonstrable advantages that come from immediate and loving contact with her birth mother in the early months and years of her life. AR's mother will not endure the hardships of communicating, visiting, and providing for an incarcerated family member. These issues are real and very detrimental to the loved ones of the imprisoned. AR's brother, RR, will have the attention, guidance, and help with large and small everyday tasks. Our HIV community will benefit from the hours of community service that AR will perform. We are all stronger when we build rather than destroy.
 
While some individuals have such severe behavioral problems that separation from society is the only answer, I believe we would agree that this is not the case for AR. We must rid ourselves of the fallacy that external punishments such as confinement reduce these internally driven behaviors. I hope, that as a people, we will grow in our understanding of human behavior and find ways to be fair, just, and to build lives so that we all benefit. The judge's sentence allows for monitoring and building of a life. Fair and creative sentences enhance our society.
 
As a teacher, and perhaps an optimist, I hope to always believe that with the correct structures in place, and with a spirit of love and cooperation, we can achieve anything.  Thank you for giving of yourselves for a family that I love. This is the best gift anyone can give.
 
I hope, with the exception of Mayo, that your knowledge of HIV has increased. There are lawmakers all over the country and in Ohio that are trying to change the laws to be more just and community building rather than destroying. I think it is obvious that Ohio's laws are steeped in fear, ignorance and the stigma that accompanies such perceptions. If you would like to further learn or become involved in HIV law, please do not hesitate to contact Mayo with the Center for HIV Law and Policy and to explore other resources, including our Ursuline Sisters HIV/AIDS Ministry.
 
In the second Ohio case, Ohio v. Orlando Batista, CHLP is assisting the ACLU of Ohio in developing the arguments in the case and soliciting participation in an amicus memorandum that will be filed by the ACLU of Ohio supporting the defendant's request for leave to file an appeal to the Ohio Supreme Court.  Mr. Batista was sentenced to eight years imprisonment after a plea of no contest to one count of felonious assault for transmission of HIV to his girlfriend. The Court of Appeals, First Appellate District of Ohio, Hamilton Count, affirmed the judgment of the trial court. Issues to be argued are that Ohio's felonious assault statute: (1) violates the Equal Protection Clauses of the Ohio and United States Constitutions because it singles out people living with HIV for prosecution in response to conduct that is not criminal in the case of other groups, for example those living with other sexually transmitted diseases; (2) compels speech in violation of the First and Fourteenth Amendments of the Constitution; and (3) violates the Americans with Disabilities Act for reasons similar to those in point one.
 
CHLP's assistance in criminal cases includes counseling defendants and their families, referring defendants to attorneys, providing legal and trial strategy advice to defense attorneys, referring medical and scientific experts, drafting sections of court submissions, and submitting amicus briefs. 
 
If you are aware of anyone charged in an HIV exposure or transmission case, please refer them to our website, www.hivlawandpolicy.org and/or have them or their lawyer contact CHLP (212-430-6733) for assistance.
---
Calling All True Believers! Take Action! 
Copyright Information: CHLP encourages the broad use and sharing of resources. Please credit CHLP when using these materials or their content. and do not alter, adapt or present as your work without prior permission from CHLP.
Legal Disclaimer: CHLP makes an effort to ensure legal information is correct and current, but the law is regularly changing, and the accuracy of the information provided cannot be guaranteed. The legal information in a given resource may not be applicable to all situations and is not—and should not be relied upon—as a substitute for legal advice.