The PJP Update, Positive Justice Project (January 2022)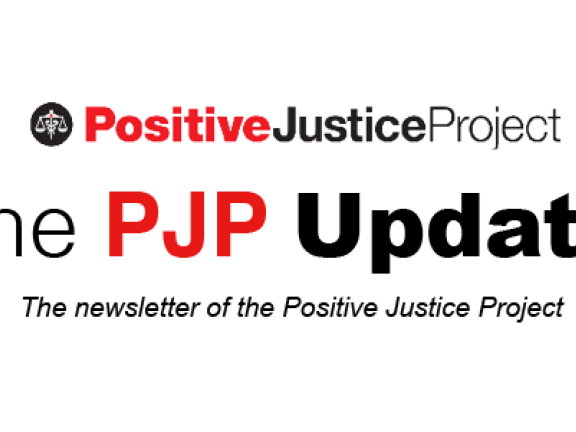 CHLP Calls on Justice Department to Investigate HIV Criminal Laws in Ohio and Tennessee
On January 21, CHLP submitted complaints to the U.S. Department of Justice on behalf of people living with HIV in Ohio and Tennessee who have been prosecuted or are at risk of prosecution under criminal laws that single out HIV for uniquely punitive treatment. The complaints allege that these laws violate federal laws prohibiting disability-based discrimination.

CHLP Supports Reintroduction of Revised REPEAL HIV Discrimination Act
On World AIDS Day 2021, U.S. Representative Barbara Lee (D-CA) reintroduced the REPEAL HIV Discrimination Act of 2022. CHLP worked with Lee's office and AIDS United on updating this latest version of the bill to reflect developments and lessons learned since the original version was first introduced by Lee more than a decade ago.
CHLP Welcomes Staff Attorneys Delia Addo-Yobo and Norma Esquivel
In November, CHLP welcomed Delia Addo-Yobo to the position of staff attorney. Delia will be working to strengthen the advocacy power of state-level coalitions fighting HIV criminalization. She recently worked on CHLP's ADA complaints, completed an analysis of bills introduced in Florida, and authored a blog for International Day to End Violence Against Sex Workers. Prior to joining CHLP, Delia worked as a criminal defense attorney at Still She Rises, a defense office dedicated exclusively to the representation of women in the criminal, family, and civil legal systems.


In January, CHLP also welcomed new staff attorney, Norma Esquivel. Norma will work on CHLP's sexual health literacy campaigns, aging issues, immigration, and criminalization. Prior to joining CHLP, Norma served as a criminal defense attorney at The Bronx Defenders where she represented hundreds of clients charged with misdemeanors and felonies at all stages of litigation.
Ending Criminalization Means Standing Up for Sex Workers
In a blog for International Day to End Violence Against Sex Workers, Staff Attorney Delia Addo-Yobo looks at the ongoing struggle to end criminalization based on identity and health/disability-related bias. To secure real justice for those who are crushed by the horrific inequities of the criminal legal system, she argues we need to be intentional about keeping the bigger picture in view and centering the concrete needs of the most marginalized, the most criminalized, and the most unheard.
CHLP Appears in Counter Narrative Project HIV Criminalization Roundtable
National Policy and Partner Strategist Amir Sadeghi participated in a live HIV criminalization roundtable event for the Counter Narrative Project's Revolutionary Health series. Amir shared advocacy updates from the national movement to end the criminalization of PLHIV, how current laws affect marginalized communities, and what we have to look forward to in the coming months. He was joined by social justice educator Robert Suttle, Williams Institute Founding Executive Director Brad Sears, and host Michael Ward.
CHLP Participates in New York State Department of Health AIDS Institute 2021 Ending the Epidemic Summit
As part of the New York State Department of Health AIDS Institute's 2021 World AIDS Day and Ending the Epidemic Summit, CHLP's Amir Sadeghi led a workshop called Policing Pandemics: Criminalization, Stigma, and Destabilizing Harmful Responses to Public Health. CHLP's panel discussion focused on why it's problematic to rely on the criminal justice system as a response to public health issues, sexual health illiteracy in the medical profession, and how molecular HIV surveillance can contribute to medical mistrust. Amir was joined by Michelle Collins-Ogle, MD, an infectious disease specialist with the Children's Hospital at Montefiore; Sasha Beatty, APA Deputy General Counsel; Kiara St. James, co-founder of the New York Transgender Advocacy Group; Reginald Brown, PJP Advisory Group member and VOCAL-NY board member; and Ronald Johnson, Chair of the US PLHIV Caucus.
State Advocacy Working Group Updates
Arkansas

The Arkansas HIV Reform Initiative (AHRI) held a World AIDS Day panel discussion, Ending HIV: A Faith Approach, where faith leaders discussed how clergy and congregations have contributed to HIV stigma and how their communities can combat that legacy. CHLP's Amir Sadeghi presented on Arkansas's HIV criminal laws and discussed the national scope of HIV criminalization. Dr. Denise Donnell moderated the talk with Pastor Deborah Bell, Pastor Clint Schnekloth, and Dr. Julia Kilbourne-Bailey, and a storytelling session with Pastor Darryl Brown, Jr.
Advocates from the AHRI continue to meet and strategize around HIV criminal law reform, community education, and coalition-building. Meetings are held on the second Thursday of the month at 11:00am (CT). To get involved, contact Eric Reece at eric.reece@hrc.org.


Florida
Late last year, Sen. Jason Pizzo and Rep. Felicia Robinson filed identical bills, Senate Bill 1074 and House Bill 813. SB 1074 has been referred to the Senate Health Policy Committee, and HB 813 is currently in the House Criminal Justice and Public Safety Committee where it awaits a hearing date. SB 1074 and HB 813 make modifications to Florida's criminal transmission of HIV laws as detailed in CHLP's analysis of these bills as well as House Bill 787, introduced by Rep. Christopher Benjamin. HB 787 was since withdrawn, but a similar bill, Senate Bill 1468, was introduced by Senator Linda Stewart in January. SB 1468 would:
remove prostitution-related offenses from the list of crimes the court can order HIV testing for;

prohibit prosecution of PLHIV if only saliva is involved;

change second or subsequent convictions of enumerated crimes from 3rd-degree felony to 1st-degree misdemeanor;

remove prostitution-related offenses involving HIV from the list of "felony sexual offenses," making it easier to restore the right to vote;

eliminate criminal penalties and costs associated with HIV and STI screening for prostitution-related arrests;

ensure that a person no longer has to pay costs for STI screening and the results will not be turned over to state attorneys, agencies, or the courts. A PLHIV that knows their status and engages in prostitution will not be subjected to a 3rd-degree felony solely based on health status. A person with STI who engages in prostitution will not be subjected to a 1st-degree misdemeanor solely based on health status.
For more information, contact Amir Sadeghi at asadeghi@hivlawandpolicy.org.
Georgia

Senate Bill 164, a bipartisan bill introduced by Sen. Chuck Hufsteler, goes back to the House Health and Human Services Committee now that the legislative session has resumed. The bill would:
require that a person "knowingly engages in a sex act with the intent to transmit" and that there be a significant risk of transmission for prosecution (although transmission is not required);

retain felony-level punishments but reduce the possible prison sentence from 10 to 5 years;

require that the prosecution prove that a sex worker living with HIV consents to perform a sex act with the intent to transmit HIV and requires that there be a significant risk of transmission;

remove punishment for PLHIV who donate blood, blood products, other body fluids, or any organ or body part;

eliminate felony punishments for PLHIV for assaulting a peace or correctional officer using bodily fluids with intent to transmit.
An unrelated amendment was attached to the bill that would allow FDA-approved medications to be removed as Schedule I drugs. Sen. Hufsteler objected to the new amendment and, with the bill now back before the House Health and Human Services Committee, advocates are focused on removing the amendment.

The next Georgia HIV Justice Coalition meeting is February 17. For more info or to participate, contact coalition co-chairs Malcolm Reid at Malcolm@thrivess.org or Eric Paulk at eric@georgiaequality.org.
Indiana
On January 4, House Bill 1032, a proposal to repeal HIV-related offenses and remove HIV-specific sentence enhancements was introduced by Rep. Sean Eberhart. HB 1032 passed 6-3 out of the Courts and Criminal Code Committee on January 24. The bill would:
remove the term "HIV" from the malicious mischief section of Indiana's criminal code;

remove HIV from the list of diseases subject to prosecution under the malicious mischief provision that could result in a Level 6 felony conviction, punishable by 6 months to 2½ years' imprisonment. Tuberculosis and hepatitis can still be prosecuted under this specific provision;

repeal a provision that makes exposure and transmission of HIV to another person a Level 4 felony,

punishable by 2 to 12 years' imprisonment.
However, it would allow for HIV-related prosecutions to continue under Indiana's general crime statutes.
Additionally, Rep. Edward Clere introduced House Bill 1158, which passed unanimously out of the Committee on Public Health on January 20. HB 1158 is an omnibus health and human services bill and amends sections of the HIV disclosure reporting law by:
repealing the duty to inform provision and associated criminal penalties from Indiana's criminal code;
repealing the donation of semen by those living with HIV provision and associated criminal penalties from Indiana's criminal code.
Both HB 1032 and HB 1158 are expected to go before the House for a floor vote next week.
To get involved in current and future advocacy with the Indiana HIV Modernization Movement, contact Carrie Foote at foote@iupui.edu or hmm.indiana@gmail.com, or visit the coalition's website.
Louisiana

On December 9, the Louisiana Coalition on Criminalization and Health (LCCH) joined the Louisiana Commission on HIV, AIDS, and Hepatitis C Education, Prevention, and Treatment for an event, "Modernize It: HIV Criminalization Summit." Stakeholders and coalition members discussed how HIV criminal laws affect PLHIV in Louisiana and what criminal legal reform would do. CHLP's Amir Sadeghi worked with LCCH to encourage the Louisiana Commission to commit to organizing the statewide summit to generate interest in criminal legal reform among legislators. Dr. Demetre Daskalakis, Division of HIV Prevention, Center for Diseases Control and Prevention (CDC), and Harold Phillips, Director of the White House Office of National AIDS Policy (ONAP), gave remarks at the closing plenary.

LCCH will hold an advocacy and legislative strategic planning meeting on February 1 and continues to meet on the second Wednesday of the month. If you are interested in working with the coalition, contact lcchinfo@gmail.com.
Mississippi
Rep. John W. Hines introduced House Bill 334, which has been referred to the House Judiciary B Committee. HB 334 makes adjustments to the HIV- and viral hepatitis-specific sentence enhancements for the exposure of a person's bodily fluids in a correctional setting. Specifically, HB 334 would:
limit prosecution of knowingly exposing another to HIV, Hepatitis B, or Hepatitis C to cases involving blood or semen only. Currently, If a PLHIV, PLHepB, or PLHepC, knows of their status and exposes another party to their blood, seminal fluid, urine, feces, or saliva, they can be convicted of a felony, punishable by 3 to 10 years' imprisonment and/or a fine up to $10,000.
However, HB 334 leaves in place stigmatizing HIV- and hepatitis-specific language, felony-level sentencing enhancements for PLHIV, PLHepB, or PLHepC, and no transmission requirement.
If you would like to get involved with the Mississippi HIV Decrim Network, please email health@mscenterforjustice.org.
Missouri
House Bill 2338, a proposal to repeal and replace sex work-related offenses, was introduced by Representative Rasheen Aldridge on January 6. HB 2338 would repeal HIV-specific criminal enhancements for PLHIV who engage in sex work. Currently, prostitution is a class B misdemeanor, but if a PLHIV is convicted of prostitution, then it is a Class B felony. Advocates in Missouri are still organizing and focusing on community education, click here for more info.
Nevada
Following the successful passage of Senate Bill 275 last summer, the Nevada HIV Modernization Coalition is monitoring the implementation of the new law. For more information on the bill, see CHLP's analysis: Nevada Passes Law Reforming HIV Criminal Laws. To get involved, contact co-chair Connie Shearer at connieroseshearer@gmail.com.
New Jersey
On January 18, New Jersey Governor Phil Murphy signed Sen. Joseph Vitale's Senate Bill 3707 into law, making New Jersey the third state to repeal its HIV-specific criminal law. As CHLP noted when the bill passed out of the legislature, S3707 repeals N.J.S.A 2C:34-5, which made it a third-degree felony for PLHIV to have oral, anal, or vaginal sex without the informed consent of their partner. The bill also repealed New Jersey's STI-specific criminal law. However, as the Senate Committee's statement on the bill's passage suggests, legislators did not intend to eliminate felony prosecution but to eliminate specific references by name to HIV and other STIs.

In its statement that accompanied the passage of S3707, Senate Budget and Appropriations Committee members explicitly state that incidents involving infectious disease exposure can be addressed by New Jersey's existing criminal endangerment law, N.J.S.A. 2C:24-7.1. Under the endangerment law, it is a crime in the fourth degree to recklessly expose another to a substantial risk of harm, and a crime in the third degree to knowingly expose another to a substantial risk of harm. This means that felony prosecutions against PLHIV may continue in New Jersey and that the array of potential criminalized actions has been broadened outside of sexual contact. S3707 also changes the endangerment law by prohibiting parties from the disclosure of the other person's personal health information in prosecutions involving the exposure of an infectious disease.

In October, the Attorney General of New Jersey took an important step towards decriminalizing sexual activity by PLHIV, announcing guidance to state prosecutors regarding the enforcement of N.J.S.A 2C:34-5(b), New Jersey's HIV criminal law. The guidance cites scientific advancements regarding the treatment of HIV, the ongoing discrimination and stigma faced by PLHIV, and positions by the American Medical Association, American Psychological Association, and the U.S. Department of Justice's Civil Rights Division. The guidance concludes that it would be "virtually impossible" to charge an undetectable individual absent aggravating factors and that the Director of the Division of Criminal Justice should be consulted before charges are brought.

Nevertheless, the Attorney General of New Jersey also advised prosecutors that in cases of "purposeful HIV transmission," the use of serious, felony criminal prosecutions of aggravated assault and/or attempted homicide "may be appropriate."

Also in New Jersey, in January, Assemblymember Robert Clifton introduced Assembly Bill 1206, an act concerning medical testing of certain persons who have been administered an opioid antidote. A1206 claims that a first responder's potential exposure to a disease outweighs a person's legitimate right to privacy regarding their health status. In summary:
When a professional or emergency medical responder administers an opioid antidote and has contact with bodily fluids or an object believed to contain bodily fluids, they may notify the local public health officer and request the person undergo testing for HIV, hepatitis, or other infectious diseases.
If that person refuses to voluntarily consent and fails to take the test within 24 hours, then the public health officer can ask the court to force them to submit to testing. The court can allow this if it is believed there was a risk of transmission.
The test results will be released to the person who underwent testing, the professional or medical responder that requested the test, and any other individual authorized by law or court order.
The results will remain confidential and cannot be used for law enforcement purposes or used as evidence in a civil court matter. A person who knowingly discloses these confidential results will be convicted of a crime in the fourth degree.
The court may force the person who underwent testing to pay for the cost of testing.
A person who undergoes testing under these circumstances is immune from civil or criminal liability.
For more information, contact Amir Sadeghi at asadeghi@hivlawandpolicy.org.
Ohio
House Concurrent Resolution 39 was introduced in December to "recognize December 1, 2021, as World AIDS Day, to acknowledge the 40th anniversary of the first reported cases of HIV/AIDS, and to commit to combating stigma around HIV/AIDS to improve health outcomes to bring an end to the HIV/AIDS epidemic in Ohio." The resolution is meant to be an educational tool to raise awareness about HIV criminalization in Ohio as a barrier to ending the epidemic.

The Ohio Health Modernization Movement (OHMM) is actively promoting the HIV criminal reform legislation that they have refined over the last few months. They hope to see the legislation introduced this year. OHMM meetings are held every other month on the third Monday 6:00pm (ET). For more information, contact ohmminfo@equalityohio.org or visit OHMM's website.
Southern States
The Southern HIV Decriminalization Network shares information and ideas about the work of state groups in the South to reform their laws and reports on case developments of interest to the group. Calls are held on the fourth Thursday of the month at 3:00pm (ET). To join, contact Charles Stephens at charles.stephens@counternarrative.org.
Tennessee
The Tennessee HIV Modernization Coalition continues to build its community-driven, state-level campaign and recently held a series of HIV modernization town halls. The coalition meets on the first Thursday of every month at 1:00pm (CT). For more information, contact Robin Lennon-Dearing at rlnnndrn@memphis.edu.
Utah
On January 18, House Bill 81 was introduced by Representative Susan Pulsipher and has been sent to the House Law Enforcement and Criminal Justice Committee. HB 81 modifies the elements and penalties for sexual solicitation and related offenses. The bill would:
allow the court to waive, lower, or suspend fines associated with patronizing or solicitation if the person "pays for and completes a court-approved educational program" about human trafficking or prostitution;
retain enhanced, felony-level penalties for PLHIV who are convicted of prostitution or sexual solicitation. If a PLHIV engages in sex work by offering, taking steps to arrange, loitering, or engaging in sexual activity for a fee, then they may be convicted of a 3rd-degree felony;
increase penalties for a PLHIV who patronizes, agrees to pay, or pays a sex worker from a 3rd-degree felony, punishable by up to 5 years' imprisonment, to a 2nd-degree felony, punishable by up to 15 years.
Washington
Following the reform of Washington's HIV criminal law in 2020, the Washington HIV Justice Alliance (WHJA) has actively engaged in the Board of Health's (WBOH) rulemaking process, providing feedback and input on several versions of the draft regulations over the last few months. CHLP and WHJA collaborated to address oversights in WBOH's proposed rule changes to ensure that state and local health departments honor the charge from the legislature to end the criminalization of HIV. The coalition's feedback was instrumental in raising the alarm about how the initial WBOH draft would have irrationally expanded government officials' ability to monitor and confine individual Washington citizens not only for exposing a consensual partner STIs, but for conduct that has no established ability to transmit any form of STI.

Thanks to community activism and feedback from WHJA, necessary changes were adopted into the WBOH rules. However, as is true with public health regulations in a number of other states, enduring issues persist in other portions of Washington's long-outdated public health regulations and testing law that limit PLHIV's privacy and autonomy in health care decision-making.

CHLP also is working with the National Association of Criminal Defense Attorneys (NACDL) to assist persons convicted under the former law who remain on the sex offender registry. For more on the reform, see HIV Criminal Law Reform, Before and After: Washington.
WHJA meets on Mondays at 11:00am (PT). To get involved, contact Dallas at dallasnsan@aol.com.
CHLP's assistance in criminal cases includes counseling defendants and their families, providing legal and trial strategy support to criminal defense attorneys, identifying and assisting with the preparation of medical and scientific experts, drafting sections of court submissions, and submitting friend-of-the-court briefs.
Montana
Last summer, a Montana federal district court determined that Montana violated both the state and United States Constitutions when it required sex offense registration for Randall Menges, a gay man convicted (when he was 18) of "crimes against nature" for having consensual sex with another young man in 1993. Montana's Attorney General appealed the ruling to the 9th Circuit Court of Appeals. CHLP's Catherine Hanssens is coordinating with lawyers from the Montana ACLU and Lambda Legal on an amicus brief in support of Menges, which was filed by Lambda Legal on behalf of the ACLU and CHLP in January.
New York
An appeal of the July 2021 decision denying Nushawn Williams' annual review petition to be released from civil confinement is underway. CHLP is working closely with Nushawn's appellate attorney and will be submitting an amicus brief in support of his appeal. The expected filing date is May 2022 and CHLP will be reaching out to organizations to join the brief in the next few months. In the meantime, we urge all New Yorkers to continue to reach out to their elected officials in New York, at the local and state level, to express your outrage at Nushawn's continued confinement.
Virginia
On January 11, the Virginia Supreme Court heard oral argument on the appeal of the civil commitment of Galen Baughman. Baughman is a gay man and advocate who was civilly committed and then placed on indefinite intensive supervision due to a finding – based on nonsexual texts with a young man living in another state – that he is a "sexually violent predator" likely to commit a violent sex offense in the future. CHLP's friend-of-the-court brief in support of Baughman's petition for appeal was included in the record before the court. For more information, see CHLP Brief Calls out Homophobic Bias in Case of Gay Man Unjustly Designated a "Sexually Violent Predator." Baughman was released temporarily from custody in December 2021 pending the outcome of the appeal.
If you are aware of anyone charged in an HIV exposure or transmission case, please refer them or their lawyer to CHLP for assistance at 212-430-6733 or pjp@hivlawandpolicy.org.
The Positive Justice Project is made possible through the generous support of individuals across the country, and the following major donors:

Brian McCarthy Foundation
Levi Strauss Foundation
Fund for the City of New York
Broadway Cares/Equity Fights AIDS
Gilead
ViiV
Copyright © 2022 Center for HIV Law and Policy, All rights reserved.
Copyright Information: CHLP encourages the broad use and sharing of resources. Please credit CHLP when using these materials or their content. and do not alter, adapt or present as your work without prior permission from CHLP.
Legal Disclaimer: CHLP makes an effort to ensure legal information is correct and current, but the law is regularly changing, and the accuracy of the information provided cannot be guaranteed. The legal information in a given resource may not be applicable to all situations and is not—and should not be relied upon—as a substitute for legal advice.