The PJP Update, Positive Justice Project (April 2020)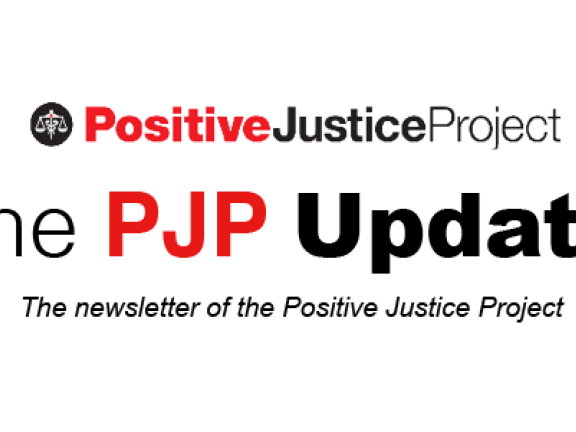 The PJP Update
News from the Positive Justice Project - April 2020
As our society faces the challenges associated with the COVID-19 pandemic, the Center for HIV Law and Policy will continue our work with and on behalf of PLHIV, PWID and others persecuted due to their identity, and to champion the rights and health of all people affected by HIV and other stigmatized diseases. We encourage those seeking up-to-date information on COVID-19 to rely on sound sources such as the CDC and WHO.
Positive Justice Project Advisory Group Hosts Webinar on State-level Organizing for HIV Criminalization and Reform
On March 25, the PJP Advisory Group and CHLP hosted a webinar to assess the best practices of state-level reform and advocacy work. The presentation reviewed guiding principles for building local leadership and direct advocacy strategies to end disease-specific criminal laws, talked about recent reform efforts and challenges, provided tips on best practices for coalition-building and engaging stakeholders. Panelists were LaTunja Sockwell, Arkansas HIV Reform Initiative and PJP Advisory Group, S. Mandisa Moore-O'Neal, Louisiana Coalition on Criminalization and Health, Lauren Fanning, Washington HIV Justice Alliance, Jeannette Mott Oxford (JMO), Missouri HIV Justice Coalition, and the moderator was Amir Sadeghi, CHLP's national outreach coordinator. Click for a recording of the webinar online.
Policing Pandemics Webinar from The Body features Catherine Hanssens and HIV Advocates on the Criminalization of HIV and COVID-19
On April 16, CHLP Executive Director Catherine Hanssens participated in a panel discussion entitled Policing Pandemics: Criminalization from HIV to COVID-19. Hosted by The Body, the webinar addressed the dangers of criminalization during the COVID-19 pandemic, offered guidance on what to do next, and answered questions from viewers. Panelists included Breanna Diaz, the policy director at Positive Women's Network-USA; Trevor Hoppe, assistant professor of sociology at the University of North Carolina-Greensboro; and Andrea Ritchie, a researcher at the Interrupting Criminalization Project. The panel was moderated by The Body's Senior Editor Kenyon Farrow and Associate Editor Mathew Rodriguez. Click to view the presentation online.
Jada Hicks Joins Advisory Board for Black AIDS Institute Report
CHLP Staff Attorney Jada Hicks was selected as an advisory committee member for the Black AIDS Institute (BAI) report, We the People: A Black Plan to End HIV in America. As an advisory member, Jada attended an in-person consultation with experts and stakeholders in December in Los Angeles. Advisory members created a rollout for the plan and BAI, in turn, launched the report on National Black HIV/AIDS Awareness Day, February 7, 2020.
CHLP on the Road at Winter Conferences
In December and January CHLP staff presented at several conferences and events on issues such as the intersection of sex work and criminalization, the racial justice implications of HIV molecular surveillance, and HIV criminal law reform. Clockwise from top left: Jake and Jada at the NAESM 2020 Leadership Conference in Atlanta; Jada at Mississippi AIDS Watch; Catherine at Creating Change in Dallas, Amir at SWOP Sex Worker Allyship 101 in St. Louis, and Jada at the 
Equitas Health Patient Summit in Akron, Ohio
. 
HIV Criminal Legal Reform in the News
NPR's All Things Considered looks at HIV disclosure laws with Jada Hicks and Ohio HIV Modernization Movement's Daphne Kackloudis.
WFYI's All IN program discussed HIV legal reform with Jada Hicks, HIV Modernization Movement-Indiana chair Carrie Foote, and NPR reporter Paige Pfleger. 
WESA's Criminal Injustice podcast examines HIV Criminal Laws with Jada Hicks and Amir Sadeghi joining host University of Pittsburgh law professor David Harris and NPR station WESA in Pittsburgh. 
The Appeal looks at Florida's HIV criminalization reform efforts with Amir Sadeghi and Jada Hicks.
PJP Advisory Group Call for Membership
The PJP Advisory Group is a unique national network of engaged advocates and social and civil rights organizations from across the U.S. who are interested in ending HIV criminalization. The Advisory Group was formed to provide a vehicle for individual community members, and the many diverse experiences and skills they offer, to inform the work of the PJP and the national conversation on the criminalization of HIV, viral hepatitis, IV drug use and sex work. The expertise and lived experiences of PJP Advisory Group members can provide powerful ways of understanding the landscape of the movement and developing strategies for future projects. If you are committed to ending the criminal law response to HIV and other over-policed diseases and identities, support the basic principles of the PJP, and are interested in becoming a member of the PJP Advisory group, please email Amir Sadeghi at asadeghi@hivlawandpolicy.org.

CHLP believes that the time and expertise of community experts are quite valuable and should be compensated. Accordingly, we offer an hourly stipend for participating in calls, meetings, and related work to active Advisory Group members who are not already full-time paid staff at another organization.
State Advocacy Working Groups
Arkansas
The Arkansas HIV Reform Initiative coalition is in development and working on growing their coalition and expanding outreach to local community members. Planning meetings are held on the second Thursday of the month at 11:00am (CT). To get involved, contact Jada Hicks at jhicks@hivlawandpolicy.org.
Florida 
On February 18, Senate Bill 626 was amended and all but one provision relating to HIV was deleted from the bill. The remaining provision addresses organ donation. Under the law in Florida, it is a felony for a person living with HIV who knows their status to donate blood, organs, or tissue. SB 626 creates an exception that allows a person living with HIV to donate blood, organs, or tissue if the donation is made specifically for a recipient who knows that the donor has HIV. Representative Nick Duran filed the companion bill, House Bill 427. For more information contact Amir Sadeghi at asadeghi@hivlawandpolicy.org.
Georgia
Georgia's House Bill 719 passed out of the house committee to the rules committee on February 26, 2020. The bill then moved out of the House to the Senate with a vote of 124-40. The bill makes significant changes to Georgia's HIV specific criminal law but leaves in place felony punishment. Under Georgia's current law, PLHIV can be sentenced to up to 10 years for not disclosing their HIV status prior to engaging in sex, sharing needles, or donating blood.
HB 719 would keep a felony-level punishment but reduce the maximum sentence to 5 years for a person living with HIV who knows their positive status but fails to disclose to a sexual partner and engages in a sexual act with the intent to transmit HIV. HB 719 would also require the sexual act to have a significant risk of transmission based on current scientifically supported levels of risk of transmission. HB 719 also decriminalizes the sharing of needles and blood or organ donation by PLHIV.
Existing law allows punishment for up to 20 years in prison if a PLHIV assaults a peace or correctional officer using bodily fluids (blood, semen, or vaginal secretions), saliva, urine, or feces. HB 719 removes this provision to update the law with modern science regarding routes and risks of transmission.
The Georgia HIV Justice Coalition's meetings are held on the third Wednesday of the month at 6:30pm (ET). To participate, contact Johnnie Kornegay at johnnie.kornegay@counternarrative.org.
Indiana
House Bill 1182 passed through Indiana's House of Representatives on January 28 and through the Senate on March 3. The bill does not have any criminal reform changes. However, the bill includes several measures that should improve HIV public health efforts in the state. These are:
Removes stigmatizing HIV-related language in the law, removes inappropriate uses of the term AIDS and ARC, and includes some HIV modernization science reforms related to reproductive care.
Revises the HIV testing code to remove barriers to testing and ensure testing information is delivered in a manner the patient can understand.
Establishes a statewide suicide and overdose fatality review committee.
Ensures Indiana's Syringe Services Programs continue through 2022.
The Indiana HIV Modernization Movement coalition is actively planning to introduce a bill in the upcoming 2020 legislative session. To learn more and to support local advocacy related to HB1325, contact Carrie Foote at foote@iupui.edu.
Louisiana
The Louisiana Coalition on Criminalization and Health holds advocacy planning calls on the second Wednesday of the month at 11:00am (CT). If you are interested in working with the coalition, contact Chip Eakins at ceakins@philadelphiacenter.org.
Missouri
On March 11, Missouri's House Bill 1691 passed out of the Judiciary Committee, its second committee assignment, by a vote of 16-0. The bill will now be referred to the Rules: Administrative Oversight Committee, which is chaired by the bill's sponsor, Representative Holly Rehder, after which the bill can be placed on the House Calendar for a floor vote.
The bill removes HIV-specific language from Missouri's criminal exposure law and replaces it with "a serious infectious or communicable disease." It reduces the penalty from a class B felony to a class D felony for an individual knowingly infected with a serious infectious or communicable disease to be or attempt to be a blood, organ, sperm, or tissue donor except when deemed medically appropriate by a licensed physician. It also reduces the penalty to a class D felony to "knowingly expose" another person to a serious or infectious disease through an activity that creates a substantial risk of transmission as determined by medical or epidemiological evidence.
However, the more severe penalty level of a class C felony is reserved in cases where transmission of a serious infectious or communicable disease occurs. The bill also reduces the penalty for an individual to expose someone in a "reckless manner" from a class B felony to a class A misdemeanor. The prosecuting attorney or grand jury must also use a pseudonym to protect the identifying characteristics of the victim of the crime when pursuing criminal charges.
The offense of endangering a correctional officer, a visitor to a correctional center, county or city jail would be changed to include attempts to or knowingly cause such a person to come into contact with a bodily fluid that has been scientifically shown to be a means of transmission of a serious infectious or communicable disease.
Another bill sponsored by Representative Rehder, House Bill 1486, has passed through Missouri's House of Representatives and has been reported to the Senate. This bill would authorize the possession, distribution, and delivery of hypodermic needles or syringes for the purpose of operating a syringe exchange program by entities registered with the Department of Health and Senior Services. The bill was referred to the Senate General Laws Committee on March 12. 
Missouri HIV Justice Coalition meetings are held on the second Friday of the month at 1:00pm (CT). For more information, email Chloe Owens at chloe@empowermissouri.org or visit the coalition's website.
Nevada
A bill creating an Advisory Task Force on HIV Exposure Modernization with members appointed by the governor, SB 284, passed both the House and Senate. Thanks to input from CHLP, the UCLA Public Interest Law Center, and Equality Federation partners, SB 284 was amended to remove stigmatizing language from the bill and to add more focus and specifics to the membership and mission of the Task Force.
With the amendments, the legislation now limits Task Force membership to 15 people, requiring that "the majority of members are people living with HIV, people affected by HIV/AIDS, and/or people from occupations, organizations, or communities who are more broadly affected, or at risk of being affected, by current statutes and regulations of this State that criminalize exposure to human immunodeficiency virus (HIV)."
The Task Force report of its findings and recommendations to the governor and the Legislative Counsel Bureau by September 1, 2020. For more information, email Brad Sears at sears@law.ucla.edu.
Ohio
CHLP has been working with Ohio Health Modernization Movement and Equality Ohio on proposed bill language to reform the state's felonious assault statute. Ohio Health Modernization Movement meetings are held on the third Monday of every other month at 5:00pm (CT). If you are interested in more information, contact ohmminfo@equalityohio.org.
Southern States
The Southern HIV Decriminalization Network holds calls on the fourth Thursday of the month at 3:00pm (ET). The network shares information and ideas about the work of state groups in the South to reform their laws and on case developments of interest to the group. To join the call, contact Charles Stephens at charles.stephens@counternarrative.org.
Virginia
House Bill 864 has been continued until the 2021 legislative session. HB 864 changes the language regarding infected sexual battery and provides that, in order for a person to be convicted of infected sexual battery, the person knew that they were infected at the time of the offense with HIV, syphilis, or hepatitis B and knew that the infection was currently detectable and transmittable, and committed the offense without using a prophylactic barrier, including a condom or dental dam.

ECHO VA (Ending Criminalization of HIV and Over-incarceration in Virginia) was founded in June 2018 by Deirdre Speaks and Dr. Cedric Pullman to reform the state's HIV-specific criminal laws and is currently focused on expanding their membership and finalizing their policy agenda. Meetings are held every month. To participate, email them at justice4echova@gmail.com.
Washington
In March, in a well-earned victory for advocates in Washington State, the legislature passed a bill that reformed the state's HIV criminalization law. Governor Jay Inslee signed ESHB 1551 into law on March 19, 2020. The bill's passage is a credit to the collaborative work that began in 2012 of community organizations in Washington including former CHLP staffer Lauren Fanning and the Washington HIV Justice Alliance. CHLP provided local advocates with analysis and support throughout these efforts.
ESHB 1551 reduces penalties for HIV exposure from a felony to a misdemeanor, requires specific intent to transmit HIV and for transmission to occur, and removes the requirement for sex offender registration. Before this reform, the law carried a felony conviction (punishable by up to life in prison) for exposure, which required neither intent to transmit nor that transmission occurred. The law also now affords PLHIV affirmative defenses against prosecution that were not previously available, including disclosure of HIV status and the use of a condom or other "practical means to prevent transmission."
If a person misrepresents their status to a sexual partner, intends to transmit, and transmission occurs, they would be subject to the higher penalty level of gross misdemeanor. The reform retains the felony penalty for PLHIV who are convicted of transmitting HIV to a child or vulnerable adult. Such a conviction would still require registration as a sex offender; however, the conduct described would typically be treated as a sex offense.
Some of the bill's changes to the public health code concerning interventions with sexually active persons who are living with an STI, including HIV, will warrant further monitoring of rules proposed to implement these changes and how they are enforced. For more on other provisions in the bill, reach CHLP's analysis online.
Copyright Information: CHLP encourages the broad use and sharing of resources. Please credit CHLP when using these materials or their content. and do not alter, adapt or present as your work without prior permission from CHLP.
Legal Disclaimer: CHLP makes an effort to ensure legal information is correct and current, but the law is regularly changing, and the accuracy of the information provided cannot be guaranteed. The legal information in a given resource may not be applicable to all situations and is not—and should not be relied upon—as a substitute for legal advice.