CHLP Testifies before New York State Senate on the Impact of COVID-19 on Prisons and Jails (2020)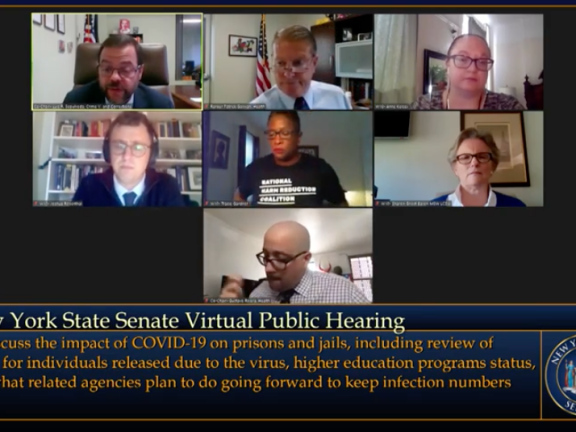 On Tuesday, September 22, CHLP's Anne Kelsey testified before a Joint Public Hearing before the New York State Senate to address the impact of COVID-19 on prisons and jails. There are nearly 50,000 people in New York State prisons and jails, settings that pose challenges to containing outbreaks and limiting the spread of COVID-19. These hearings look at correctional facility responses with an eye toward improving readiness and preparation across the state.
CHLP's testimony focused on the importance of taking a public health rather than criminal law enforcement approach to COVID-19, as well as the need to address failures in the state's response to COVID-19 in prisons, jails, psychiatric hospitals, and other settings of confinement. The testimony referenced recommendations written by CHLP, the Association of Prosecuting Attorneys and other organizations to guide how criminal justice professionals can incorporate public health principles into their responses to COVID-19 and future public health crises. The Public Health and Public Safety Pathways for Criminal Justice System Responses to COVID-19 were submitted for review.
Video of the day's testimony can be viewed below. The section with CHLP's testimony begins at 5:38:00, with Anne Kelsey speaking at 5:44:40.