Advocates at the International AIDS Conference Call for Decriminalizing Sex Work (2014)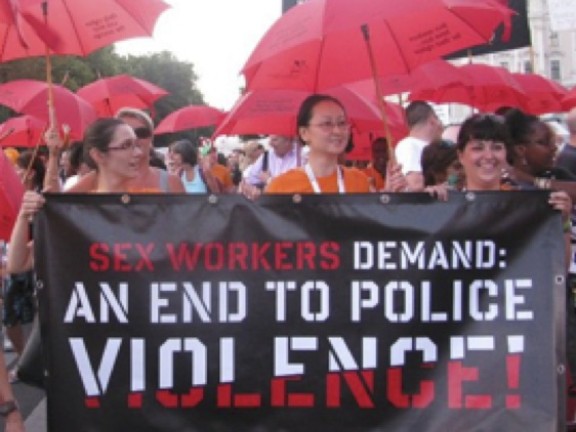 "Use of condoms as evidence is one glaring example of how criminalization of sex work affects public health. Criminalization can have a direct impact on access to health care. Treatment, such as anti­retroviral therapy, requires stability and consistency. Being at risk for criminalization disrupts this." Sienna Baskin, Co-Director, Sex Workers Project, Urban Justice Center, New York
Advocates attending the 20th International AIDS Conference in Melbourne, Australia presented a report saying that the decriminalization of sex work could reduce HIV infections among female sex workers in three countries by as much as 46 percent over the next decade.
The report, Global Epidemiology of HIV Among Female Sex Workers: Influence of Structural Determinants, is the first of a series of papers being presented at the conference by The Lancet. For this report researchers studied sex workers in Canada, India and Kenya and found that high rates of violence, police harassment and poor working conditions – combined with poor access to prevention and care – significantly increase HIV risks for sex workers.
Their research found that the criminalization of sex work pushes sex workers to seek out isolated areas to conduct their business, putting them at increased risk of violence. The confiscation of condoms by police for use as evidence of prostitution makes some sex workers avoid carrying condoms out of fear that they will be arrested. And fear of arrest forces sex workers to rush through transactions, making them less likely to insist on safer sex, including the use of condoms.
The report's authors say that to stem the HIV epidemic among female sex workers and their clients structural changes to laws and policies, such as the decriminalization of sex work, are urgently needed. Decriminalization would result in reductions in police harassment and violence and the creation of safer work environments. Such reform, combined with other public health initiatives, would substantially reduce the incidence of HIV as well as promote human rights for sex workers worldwide.