The PJP Update, Positive Justice Project (July 2018)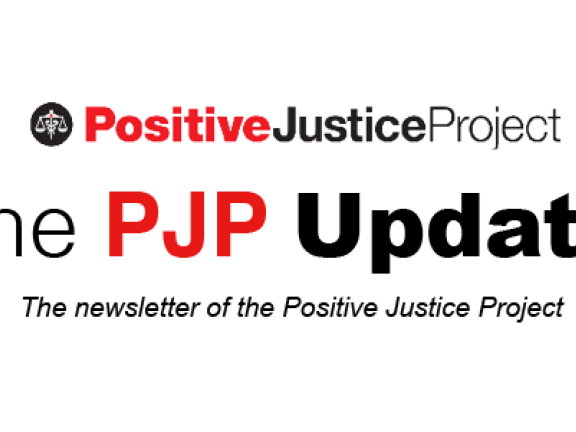 CHLP Staff Presents at HIV Is Not A Crime III Training Academy in Indianapolis
In early June, CHLP staff members Mayo Schreiber, Kate Boulton, and Arpita Appannagari attended HINAC-III, a three-day conference of state and national advocates to strategize together on how to end HIV criminalization. Schreiber and Boulton each presented at two sessions on the role of U=U in HIV criminal law reform, legal literacy for non-lawyer advocates, and how to create a reform strategy in states where there is no HIV-specific criminal law. Hosted by the Sero Project and Positive Women's Network-USA, HINAC educates and trains people living with HIV, stakeholders and policy leaders to mobilize state-level advocacy to end HIV criminalization.
CHLP Teams Up with Visual AIDS for NYC Pride March
At NYC Pride on June 24, CHLP staff members Kate Boulton, Arpita Appannagari and legal intern Denise Go marched as part of the contingent from Visual AIDS, an organization that supports HIV education through art and highlights artists living with HIV and AIDS. Visual AIDS printed out a broadside to distribute at the March which called for an end to HIV criminalization. Over 7,500 copies of the broadside leaflet were distributed during the march. Earlier in June, Boulton presented on a panel of HIV decriminalization activists and advocates at La MaMa Galleria in NYC as part of Visual AIDS' summer exhibition Cell Count, which focused on HIV criminalization
What Happened in the 2018 Legislative Session?
In the most recent legislative session, numerous states considered and/or enacted legislation addressing the criminalization of HIV and other health conditions, as well as related issues such a mandatory testing. Now that most state legislative sessions have concluded, this issue of the PJP Update looks at what you need to know about 2018.
---
FLORIDA: SB 5456 & HB 719
In October 2017, Senator René Garcia (R-36) filed SB 546 to revise Florida's HIV-specific laws. In November, Representative Nick Duran (D-112) filed the bill's identical House counterpart, HB 719. The bills would eliminate felony punishment for nondisclosure and significantly narrow the scope of criminal conduct for non-commercial sex, while retaining felony status and significant punishment for sex workers living with HIV. Both bills were introduced in the House and Senate at the beginning of session in January 2018. In March, both bills died in the Health Policy and Criminal Justice Subcommittees, respectively.

For more detailed information on these bills, please refer to CHLP's analysis here: A Closer Look at Proposed Legislation to Change HIV Criminal Laws in Florida. In June 2018, Florida advocates and national partners gathered in Ft. Lauderdale for an in-person strategic planning meeting.
---
KENTUCKY: HB 193
In January, Representative Stan Lee (R-45) introduced HB 193 (original), a communicable disease exposure bill relating to interactions with peace officers. As introduced, this bill would have created a new form of felony assault for conduct that poses no or negligible risk of disease transmission, including in response to casually transmitted and curable conditions.
Fairness Campaign and ACLU of Kentucky attended the House Judiciary Committee hearing to testify in opposition to the bill in February. Once the bill passed out of committee, Fairness Campaign, with support from CHLP, worked with legislators to improve the bill.
After dedicated advocacy and negotiation by Fairness Campaign with Representative Jason Nemes (R-33), the bill as passed contains a narrower definition of communicable disease, reduces penalties to misdemeanors, and only targets conduct that is "likely to cause transmission." The final version of HB 193 may be viewed as an improvement in Kentucky, where people living with HIV have been charged with felony wanton endangerment for acts like spitting at law enforcement, which does not pose any risk of disease transmission. Felony wanton endangerment carries a penalty of up to 5 years in prison and/or a fine of up to $10,000. By contrast, HB 193 imposes misdemeanor penalties, which are punishable by a maximum of 12 months in jail. HB 193 passed through the Kentucky House of Representatives in March and the Kentucky Senate in April. Kentucky's governor signed HB 193 into law in April 2018.
The new law went into effect on July 14—see a comprehensive explanation of the laws in Kentucky from CHLP's Sourcebook here.
---
LOUISIANA: HB 275 & HB 112
Advocates from the Louisiana Coalition on Criminalization and Health (LCCH) had their eyes on two bills introduced in February of this session: HB 275 (original), introduced by Representative Edmond Jordan (D-29), and HB 112 (original), introduced by Representative Sherman Mack (R-95).
HB 275
HB 275 (original) proposed changes to Louisiana's criminal statute "Intentional exposure to AIDS virus." (LA. REV. STAT. ANN. § 14:43.5). Although it was intended to "modernize" Louisiana's law, the bill sponsor declined any serious consultation with LCCH prior to drafting, despite the Coalition's efforts at outreach and education.
HB 275 (as passed) continues Louisiana's misguided focus on nondisclosure as a basis for criminal prosecution, the criminalization of activities that pose no risk of HIV transmission, and disproportionate felony punishment. While the original bill as introduced required "specific intent to transmit," this was eliminated by the House Committee on Administration of Criminal Justice. The addition of affirmative defenses (e.g., that a person took practical means to prevent transmission as advised by a health professional) are conditioned on a PLHIV first having disclosing their status.

HB 275 (Act 427) passed unanimously through the House and Senate, was signed into law, and will be effective in August 2018.
HB 112
HB 112 (as passed) proposed amendments to the Louisiana Code of Criminal Procedure Article 222 relating to blood and saliva testing of persons who allegedly may have exposed law enforcement officers to a "serious infectious disease." Testing includes evaluation for HIV and other STIs, as well as viral hepatitis.
The bill expanded the definition of "law enforcement officer" to include forensic lab personnel, emergency medical responders, and firefighters. It also authorizes mandatory testing due to any method of intentional or non-intentional exposure to blood or other bodily substances. The result is a law that did not and does not reflect current scientific knowledge regarding disease transmission risk.
HB 112 (Act 118) was sent to the governor for executive approval in May and signed into law. It will go into effect in August 2018.
---
MICHIGAN: HB 6020
In May, Representative Jon Hoadley (D-60) introduced HB 6020, which would amend Michigan's HIV-specific felony sexual exposure statute. The bill was referred to the House Committee on Health Policy the same day it was introduced. Later in May, the Committee held a hearing in which spoken and written testimony were submitted in support of HB 6020 by various stakeholders, including the Michigan Department of Community Health. Since then, the bill does not appear to have made made further progress (i.e, no additional sponsors, no Senate version).
HB 6020 proposes the addition of specific intent to transmit to Michigan's felony sexual exposure statute (MCLS § 333.5210), as well as the the requirement that transmission of disease occur for prosecution. The bill also would lower the penalty from a felony to a misdemeanor. The bill does not address a provision in the state's Public Health Code prohibiting the donation of sale or donation of blood/blood products by PLHIV; or the prosecution of PLHIV under the state's bioterrorism law (MCLS §§ 750.54b(c), 750.200h(g)), which has been used in at least two cases.
Michigan's legislative session will continue through the end of 2018 and the Michigan Coalition for HIV Health and Safety continues to work on moving these bills forward.
---
MISSOURI: HB 2674 & HB 2675
After extensive work and advocacy by the Missouri HIV Justice Coalition, two bills (HB 2674 and HB 2675) were filed consecutively on March 1 in the Missouri House of Representatives. Representative Holly Rehder (R-148) filed HB 2674 while Representative Tracy McCreery (D-88) filed HB 2675. Both bills were referred to the House Health and Mental Health Policy committee for a hearing on May 9. Coalition members provided testimony at the committee hearing. Follow this link for more information on the committee hearing and Missouri HIV Justice Coalition members' testimonies.
For more information on these bills as well as the differences between them, please refer to CHLP's resource: A Side-by-Side Comparison of the Proposed Bills to Reform Missouri's HIV Criminal Laws.
---
NORTH CAROLINA: Administrative Notice & Comment Rulemaking
Following advocacy by the North Carolina AIDS Action Network, the NC Commission for Public Health voted to revise North Carolina's HIV control measures to reflect the role of effective HIV antiretroviral therapy in preventing transmission. Substantial changes had not been made to the state's HIV control measures since its initial enactment in 1988. The NC Commissioner for Public Health voted to modernize the state's HIV control measures in November 2017, and the new HIV criminal law went into effect on January 1, 2018.
The code provisions include three significant changes: 1) PLHIV are no longer legally required to disclose their status to sexual partners if they are in medical care, adhering to their clinician's HIV treatment plan, and can demonstrate that they have been virally suppressed for at least 6 months, 2) condom usage is not legally required if the PLHIV has been virally suppressed for at least 6 months, if their partner is also HIV positive, or if the negative partner is on PrEP, and 3) PLHIV are allowed to donate organs for research purposes and transplantation among PLHIV. The full text of the new control measures can be found in CHLP's Sourcebook here.
The changes to North Carolina's control measures highlight the ongoing debate on the use of viral detectability as a vehicle for HIV criminal law reform. For more information, consult the Consensus Statement on HIV "Treatment as Prevention" Criminal Law Reform, a collaboratively drafted statement launched in Summer 2017 that outlines the harms of relying on a U=U in HIV criminal law reform efforts.
---
OKLAHOMA: HB 3387
On February 2, Representative Roger Ford (R-95) introduced HB 3387, a bill to amend Oklahoma's HIV-specific laws.
Much of the bill language proposed by HB 3387 is identical to language from Florida's SB 546, described above. It is unclear whether Rep. Ford's bill was supported by Oklahoma-based organizations. As in Florida, the bill does not propose any changes to the penalty enhancement applied to sex workers living with HIV. (Under OKLA. STAT. tit. 21, § 1031(B), what would ordinarily be a misdemeanor offense for prostitution punishable by a maximum of one year in jail is elevated to a felony punishable by up to five years in prison.)
The 2018 Oklahoma legislative session ended on May 3, and the bill did not move beyond referral to the House Rules Committee during session.
Get Involved in Your State
Arkansas HIV Reform Initiative meets on the on the second Thursday of the month at 11:00 AM (CT). Contact Arpita Appannagari at aappannagari@hivlawandpolicy.orgfor more information.
Equality California engages in ongoing advocacy efforts. Contact Brad Lundahl brad@eqca.org or 323-848-9801 for more information.
Florida HIV Justice Coalition meets on the third Thursday of the month at 1:00 PM (ET). Contact Kamaria Laffrey at kamaria.laffrey@seroproject.com for more information.
Georgia HIV Justice Coalition meets on the third Wednesday of the month at 6:30 PM (ET). Contact Johnnie Kornegay at johnnie.kornegay@counternarrative.org for more information.
Louisiana Coalition on Criminalization and Health meets on the second Wednesday of the month at 11:00 AM (CT). Contact Chip Eakins at ceakins@philadelphiacenter.org for more information.
Missouri HIV Justice Coalition meets on the second Friday of the month at 1:00 PM (CT). Contact Ashley Quinn at ashley@empowermissouri.org, or visit the coalition's website for additional information.
Ohio Health Modernization Movement meets on the third Monday of the month at 5:00 PM (CT). Contact Kim Welter at kim@equalityohio.org for more information.
CHLP's assistance in criminal cases includes counseling defendants and their families, providing negotiation and trial strategy support to criminal defense attorneys, identifying and assisting with preparation of medical and scientific experts, drafting court submissions, and submitting friend-of-the-court briefs. CHLP currently is assisting in cases in Arkansas, California and Florida.

If you are aware of anyone charged in an HIV exposure or transmission case, please refer them to our website, www.hivlawandpolicy.org and/or have them or their lawyer, contact CHLP for assistance at 212-430-6733 or pjp@hivlawandpolicy.org.
Copyright Information: CHLP encourages the broad use and sharing of resources. Please credit CHLP when using these materials or their content. and do not alter, adapt or present as your work without prior permission from CHLP.
Legal Disclaimer: CHLP makes an effort to ensure legal information is correct and current, but the law is regularly changing, and the accuracy of the information provided cannot be guaranteed. The legal information in a given resource may not be applicable to all situations and is not—and should not be relied upon—as a substitute for legal advice.