The PJP Update, Positive Justice Project (December 2019)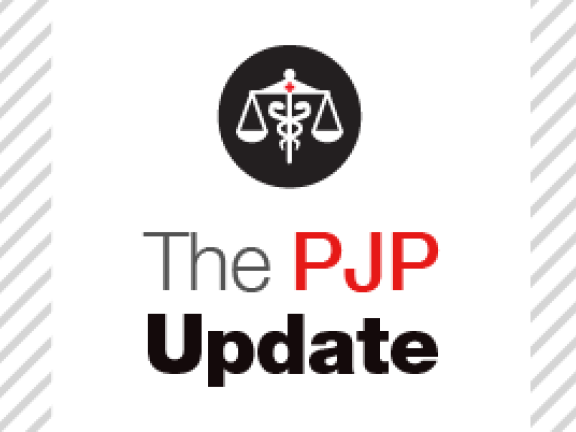 CHLP Co-hosts National LGBT HIV Criminal Justice Working Group Meeting
On September 25, CHLP staffers Catherine Hanssens, Jacob Schneider, Jada Hicks, and Amir Sadeghi co-hosted the quarterly meeting of the National LGBT HIV Criminal Justice Working Group. Black and Pink administered the meeting and did the essential work of organizing the agenda. Pictured (l-r) are: John Barnes, Executive Director of Funders Concerned About AIDS; Catherine Hanssens (and Allie the dog); David Booth, Director of Policy and Advocacy at Black and Pink; Dominique Morgan, Executive Director of Black and Pink, and; Urvashi Vaid, CEO of The Vaid Group.
The meeting focused on HIV in the criminal legal system and prioritized insights of formerly incarcerated people of color. Jada led a discussion on HIV criminalization and Jake coordinated a session on the process and problems of the CDC's recent push for molecular surveillance. John Barnes of Funders Concerned About AIDS provided a useful if sobering update on the evolving state of philanthropic support for HIV policy advocacy in the U.S.
Is HIV Molecular Surveillance Worth The Risk? 
CHLP's new fact sheet, blog, and webinar explore a controversial new use of a PLHIV's resistance testing results, possible implications, and unanswered questions in a way that we hope will help formulate community responses going forward. On October 15, CHLP hosted a molecular surveillance webinar with Staff Attorney Jacob Schneider featuring guests Andrew Gans, HIV, STD and Hepatitis Section Manager with the New Mexico Department of Health, and Ronald Johnson with the US People Living with HIV Caucus. A recording of the webinar, in which the panelists reviewed CHLP's fact sheet, discussed emerging ethical issues, and recommended policy responses, is available on CHLP's web site.
In publishing this resource, we hope that the conversation about molecular surveillance is only the beginning of a broader effort to reorient HIV policy efforts around fundamental principles of dignity, self-determination, and respect that recognize the risks that criminalized and ostracized PLHIV in our communities routinely encounter. Without this, and a full embrace of the more modern concept of patient-centered care, ending the epidemic just won't happen.
PJP Advisory Group Call for Membership
The PJP Advisory Group is a unique national network of engaged advocates and social and civil rights organizations from across the U.S. who are interested in ending HIV criminalization. The Advisory Group was formed to provide a vehicle for individual community members, and the many diverse experiences and skills they offer, to inform the work of the PJP and the national conversation on the criminalization of HIV, viral hepatitis, IV drug use and sex work. The expertise and lived experiences of PJP Advisory Group members can provide powerful ways of understanding the landscape of the movement and developing strategies for future projects. If you are committed to ending the criminal law response to HIV and other over-policed diseases and identities, support the basic principles of the PJP, and are interested in becoming a member of the PJP Advisory group, please email Amir Sadeghi at asadeghi@hivlawandpolicy.org.

CHLP believes that the time and expertise of community experts is valuable and should be compensated. Accordingly, we offer an hourly stipend for participating in calls, meetings, and related work to active Advisory Group members who are not already full-time paid staff at another organization.
Meeting with Legislators on New York State HIV Testing Policy
On Tuesday, September 24, CHLP's Amir Sadeghi and Jacob Schneider attended a meeting with New York State Senator Brad Hoylman, Senator Gustavo Rivera, and Assemblymember Richard Gottfried to discuss the New York testing bill. Pictured are (from left) Allie Bohm, NYCLU Policy Counsel, Amir, Erika Lorshbough, NYCLU Assistant Director for Legislative Affairs, and Jake.
State Advocacy Working Groups
Most states are not currently in legislative session but state advocates continue to meet and strategize around HIV criminal law reform.
Arkansas
The Arkansas HIV Reform Initiative coalition is in development, and working on growing their coalition and expanding outreach to local community members. Planning meetings are held on the second Thursday of the month at 11:00am (CT). To get involved, contact Jada Hicks at jhicks@hivlawandpolicy.org.
Florida 
State Senator Jason Pizzo introduced SB 626 and Representative Nicholas Duran introduced its companion bill HB 427. These "HIV prevention" bills make changes to Florida's HIV exposure law, tightening prosecution requirements, including for transmission, and changing the felony penalty to a misdemeanor.
Notably, this legislation preserves the felony exposure provision in the law under which 74% of all convictions have occurred: those involving sex workers (usually women), who are both arrested and convicted at astoundingly higher rates than those arrested for exposure complaints unrelated to sex work (usually men). 
The bill leaves in place mandatory testing targeting those convicted of sex work and a variety of other offenses. It also expands "the scope of unlawful acts by a person infected with a sexually transmissible disease" by adding oral sex to the list of prohibited conduct. 
For more information contact Amir Sadeghi at asadeghi@hivlawandpolicy.org.
Georgia 
The Georgia HIV Justice Coalition's meetings are held on the first Monday of the month at 6:30pm (ET). To participate, contact Johnnie Kornegay at johnnie.kornegay@counternarrative.org.
Indiana
The Indiana HIV Modernization Movement coalition is actively planning to introduce a bill in the upcoming 2020 legislative session. To learn more and to support local advocacy related to HB1325, contact Carrie Foote at foote@iupui.edu.
Louisiana
The Louisiana Coalition on Criminalization and Health holds advocacy planning calls on the second Wednesday of the month at 11:00am (CT). If you are interested in working with the coalition, contact Chip Eakins at ceakins@philadelphiacenter.org.
Michigan
Changes to Michigan's HIV criminal law went into effect earlier in 2019. For details on the changes, see our online Sourcebook as well as our Michigan state page. For more information about the significance of the recent changes to the law in Michigan, please contact Jada Hicks at jhicks@hivlawandpolicy.org.
Missouri
On October 26, the Missouri HIV Justice Coalition met in Kansas City for its final strategic planning meeting of the year. More than half of the group's members attended and engaged in a full day of activities and conversations looking ahead to the next legislative session and beyond. 
The most pressing conversation concerned internal structure and process, including decision-making, succession plans, communications, and leadership structure. The coalition worked together to address these challenges with collaborative problem-solving that resulted in some important decisions, including:
The coalition will work to create a set of bylaws that detail how they operate;

The coalition will meet in-person four times in 2020 – two times during the legislative session focusing on the work to change the law and two times after session has concluded focusing on the health and structure of the group; and

The coalition will utilize voting to make decisions and detail specific procedures for voting in its bylaws.
Coalition member organization Empower Missouri recently welcomed Chloe Owens to the position of Justice Organizer. Chloe is a social worker and emerging documentarian from Memphis. She pursued a master's in social work to develop knowledge of organizing, coalition building, and systemic oppression, and a graduate certificate in documentary filmmaking to understand the power of storytelling in affecting change, skills she is excited to employ in support of Missouri HIV Justice Coalition efforts to reform the state's HIV laws. 
Coalition meetings are held on the second Friday of the month at 1:00pm (CT). For more information, email Chloe Owens at chloe@empowermissouri.org or visit the coalition's website.
Nevada
A bill creating an Advisory Task Force on HIV Exposure Modernization with members appointed by the governor, SB 284, passed both the House and Senate. Thanks to input from CHLP, the UCLA Public Interest Law Center and Equality Federation partners, SB 284 was amended to remove stigmatizing language from the bill, and to add more focus and specifics to the membership and mission of the Task Force. 
With the amendments, the legislation now limits Task Force membership to 15 people, requiring that "the majority of members are people living with HIV, people affected by HIV/AIDS, and/or people from occupations, organizations, or communities who are more broadly affected, or at risk of being affected, by current statutes and regulations of this State that criminalize exposure to human immunodeficiency virus (HIV)." 
Equally as important, and rather than a general review and report on current laws, the Task Force is now explicitly directed, as part of its examination of the statutes and regulations related to the criminalization of HIV, to "research the implementation and impact of such statutes and regulations including, but not limited to a) quantifying the impact of such statutes and regulations, if possible, through analysis of relevant State Information, data, and records; b) identify any disparities in arrests, prosecutions, or convictions under such statutes or regulations related to race, color, sex, sexual orientation, gender identity or expression, age, or  national origin; c) evaluate the current medical and scientific research with respect to the modes of HIV transmission implicated by such State statutes and regulations; d) identify any court decisions enforcing or challenging such statutes and regulations; and e) assess developments in other states and nationally with respect to modernizing HIV criminalization laws."
The Task Force report of its findings and recommendations to the governor and the Legislative Counsel Bureau by September 1, 2020.
Ohio 
In late September, Jada Hicks attended a legislative summit meeting with the Ohio Health Modernization Movement in Columbus. Jada presented on the types of issues and proposed compromises that can arise and require advance planning to address during the legislative reform process. 
Since then, advocates met with State Senator Nickie Antonio to discuss the different pathways to reform and strategies the coalition can use to overcome hurdles in the process. CHLP has been working with OHMM and Equality Ohio on proposed bill language to reform the state's felonious assault statute.
Ohio Health Modernization Movement meetings are held on the third Monday of every other month at 5:00pm (CT). If you are interested in more information, contact ohmminfo@equalityohio.org.
Southern States
The Southern HIV Decriminalization Network holds calls on the fourth Thursday of the month at 3:00pm (ET). The network shares information and ideas about the work of state groups in the South to reform their laws and on case developments of interest to the group. To join the call, contact Charles Stephens at charles.stephens@counternarrative.org.
Virginia
CHLP recently started working with advocates from ECHO VA (Ending Criminalization of HIV and Over-incarceration in Virginia). The group was founded in June 2018 by Deirdre Speaks and Dr. Cedric Pullman to reform the state's HIV-specific criminal laws and is currently focused on expanding their membership and finalizing their policy agenda. Meetings are held every month. To participate, contact Deirdre Speaks or Dr. Cedric Pullman at justice4echova@gmail.com.
Washington
CHLP continues to work closely with lead stakeholders, including former CHLP staff member Lauren Fanning, as the legal lead on draft language for a bill that will transform Washington's Sexually Transmitted Disease (STD) code, RCW 70.24. For more information, please contact Jada Hicks at jhicks@hivlawandpolicy.org. 
CHLP's assistance in criminal cases includes counseling defendants and their families, providing legal and trial strategy support to criminal defense attorneys, identifying and assisting with the preparation of medical and scientific experts, drafting sections of court submissions, and submitting friend-of-the-court briefs. 


Virginia
Following a trial in Arlington during the first two weeks of October 2019, a jury determined that Galen Baughman, an anti-sex offender registry activist and member of the National LGBT/HIV Criminal Justice Working Group, is a "sexually violent predator" eligible for indefinite civil confinement and/or intensive supervision based on a technical parole violation and offenses that occurred nearly 20 years ago. Galen was incarcerated for nine years for a sex offense conviction as a teenager and became an advocate for reform following his release; he was awarded a Soros Justice Fellowship in 2015 to campaign against abusive applications of registries and commitment against gay and transgender people on the basis of discredited and discriminatory criteria used to predict a person's future dangerousness. 
Dozens of civil liberties advocates, law professors, criminal justice organizations and opponents of the registries expressed their outrage at Galen's treatment and prosecution in a letter drafted by CHLP's Catherine Hanssens to Virginia's Attorney General in 2018. As his trial date drew near, legal experts used it as an opportunity to draw attention to the injustice of Virginia's civil commitment scheme, including an op-ed in the Washington Post as well as an op-ed by Arlington's delegate in the Virginia legislature.
New York
CHLP attorneys continue to work on behalf of Nushawn Williams, who has now spent more than 20 years behind bars following an explosion of media coverage and his subsequent guilty pleas in three sets of charges brought against him for being sexually active after his HIV diagnosis without his partners' knowledge. Attorneys from Wilmer Hale have been granted leave to substitute for Nushawn's appointed counsel, who failed to move to have a review hearing scheduled for more than two years after being appointed Nushawn's lawyer. New Yorkers interested in learning more about Nushawn's case and in supporting his bid for release can contact Jacob Schneider at jschneider@hivlawandpolicy.org.
Iowa
CHLP's Jada Hicks is assisting a defense attorney in Iowa on a new HIV exposure case. Since Iowa's HIV criminal laws were amended in 2014, the total number of HIV/HIV/TB/Meningitis exposure cases brought before the courts is now 16, at least seven of which have resulted in convictions.
If you are aware of anyone charged in an HIV exposure or transmission case, please refer them to our website, www.hivlawandpolicy.org and/or have them or their lawyer, contact CHLP for assistance at 212-430-6733 or pjp@hivlawandpolicy.org.
Copyright Information: CHLP encourages the broad use and sharing of resources. Please credit CHLP when using these materials or their content. and do not alter, adapt or present as your work without prior permission from CHLP.
Legal Disclaimer: CHLP makes an effort to ensure legal information is correct and current, but the law is regularly changing, and the accuracy of the information provided cannot be guaranteed. The legal information in a given resource may not be applicable to all situations and is not—and should not be relied upon—as a substitute for legal advice.