Enforcement of HIV Criminalization in Kentucky, Williams Institute (2021)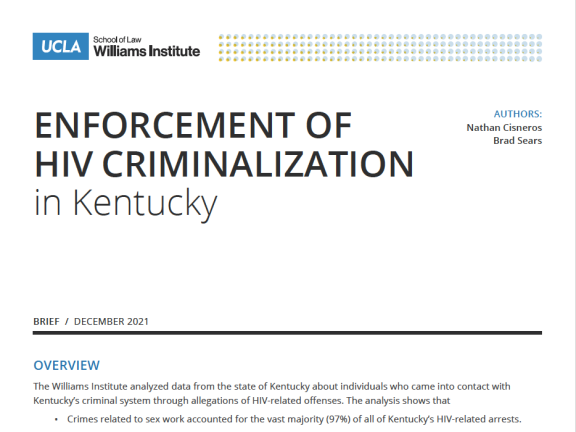 The Williams Institute analyzed data from the state of Kentucky about individuals who came into contact with Kentucky's criminal system through allegations of HIV-related offenses. There have been at least 32 arrests for HIV-specific offenses in Kentucky since the year 2006. All but one arrest was for a prostitution-related offense (including four for "procuring" sex work). There was one arrest for organ, skin, or tissue donation.
The analysis shows that:
Crimes related to sex work accounted for the vast majority (97%) of all of Kentucky's HIV-related arrests.
Women in general, and white women in particular, are heavily overrepresented in Kentucky's HIV-related arrests, accounting for nearly two-thirds (62%) of the total.
Enforcement is geographically concentrated: on a per-capita basis, Kenton County in Northern Kentucky had about eight times more HIV-related arrests than Jefferson County, the state's most populous county. Northern Kentucky is part of the Cincinnati metropolitan area and has historically been a site for Cincinnati's sex work industry.
The Williams Institute on Sexual Orientation and Gender Identity Law and Public Policy at UCLA School of Law advances law and public policy through rigorous, independent research and scholarship, and disseminates its work through a variety of education programs and media to judges, legislators, lawyers, other policymakers and the public.
Summary by the Williams Institute.
Copyright Information: CHLP encourages the broad use and sharing of resources. Please credit CHLP when using these materials or their content. and do not alter, adapt or present as your work without prior permission from CHLP.
Legal Disclaimer: CHLP makes an effort to ensure legal information is correct and current, but the law is regularly changing, and the accuracy of the information provided cannot be guaranteed. The legal information in a given resource may not be applicable to all situations and is not—and should not be relied upon—as a substitute for legal advice.