Published September, 2022
Braidwood Mgmt. Inc. v. Becerra, N.D. Tex. (Sept. 7, 2022)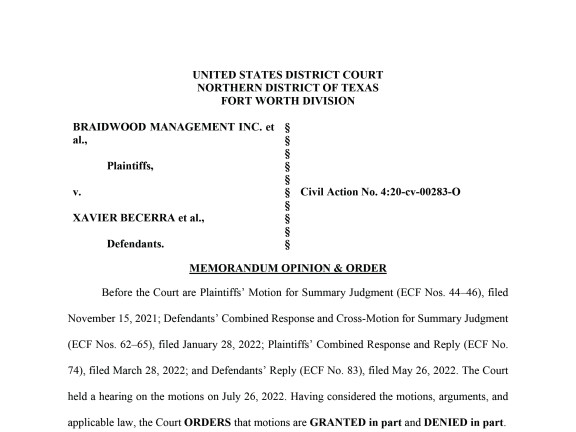 On September 7, 2022, Judge Reed O'Connor of the District Court for the Northern District of Texas ruled a key component of the Affordable Care Act's (ACA) preventive services mandate was unconstitutional. On cross-motions for summary judgment, the court ruled that the USPSTF experts' appointments violated the Constitution and that the PrEP mandate violated the Religious Freedom Restoration Act as it concerned the plaintiffs in this case. The court ordered and scheduled supplemental briefings and will rule on appropriate remedies at a later date.
Copyright Information: CHLP encourages the broad use and sharing of resources. Please credit CHLP when using these materials or their content. and do not alter, adapt or present as your work without prior permission from CHLP.
Legal Disclaimer: CHLP makes an effort to ensure legal information is correct and current, but the law is regularly changing, and the accuracy of the information provided cannot be guaranteed. The legal information in a given resource may not be applicable to all situations and is not—and should not be relied upon—as a substitute for legal advice.