Webinar: Criminalization and U=U: The Role of Viral Suppression in Criminal Law Reform (2020)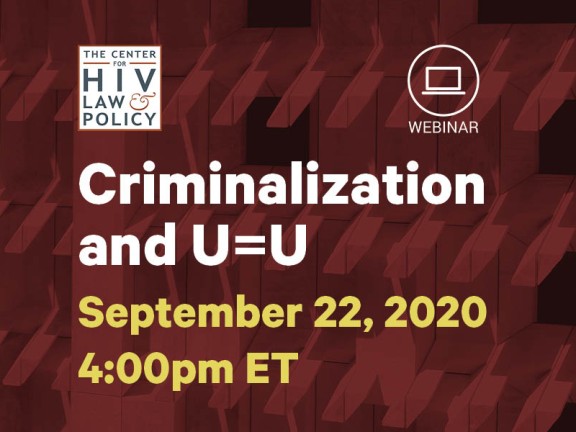 In this webinar hosted by the Positive Justice Project, dig deep into the mix of perspectives on how best to use the remarkable advances in HIV treatment and preventative tools in advocacy to reform HIV criminal laws. Panelists share their expertise on changing the narrative about people living with HIV, "treatment as prevention" (TasP), and incorporating principles of racial and gender justice into HIV criminal-legal reforms.
Please visit hivtaspcrimlaw.org to learn more about the Consensus Statement on HIV "Treatment as Prevention" in Criminal Law Reform.

Presented on Tuesday, September 22 at 4:00pm ET.
Panelists include:
Deondre Moore, US Partnerships & Community Engagement Manager, Prevention Access Campaign
Devin Hursey, Missouri HIV Justice Coalition
Linda Dixon, Health Law Director, Mississippi Center for Justice
Eric Paulk, Deputy Director, Georgia Equality
The webinar is moderated by Amir Sadeghi, National Policy and Partner Strategist, CHLP
Click below to watch the webinar.