Truthout: People With HIV Are Still Being Criminalized in 25 States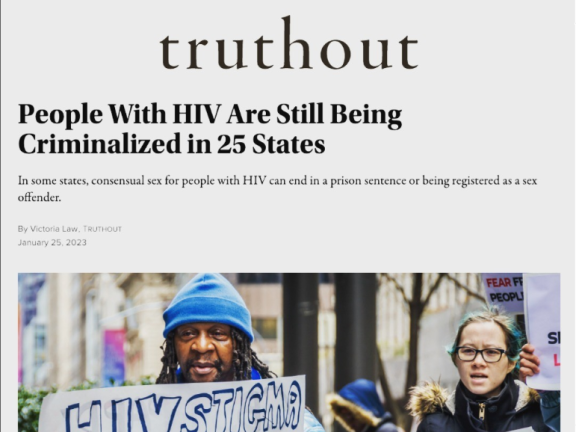 CHLP attorneys Jada Hicks and Kae Greenberg talk with Victoria Law for this Truthout article on our work supporting Robert Suttle's appeal to the New York State Court of Appeals.
"In January 2023, the Center for HIV Law and Policy filed an amicus brief urging the appeals court to hear Suttle's case. The Center argued that requiring people who have to register as sex offenders in another state to do so in New York without an individualized assessment violates the Americans with Disabilities Act (or ADA). So does Louisiana's "intentional exposure to HIV" statute, since the ADA prohibits state discrimination against people living with HIV."
Read the full article below or at Truthout.org.
---
People With HIV Are Still Being Criminalized in 25 States
In some states, consensual sex for people with HIV can end in a prison sentence or being registered as a sex offender.
By Victoria Law, TRUTHOUT
Published January 25, 2023
In 2008, Robert Suttle's life was upended. The 30-year-old had been working as an assistant law clerk at the Second Circuit Court of Appeal in Shreveport, Louisiana, when police arrested him in front of his colleagues. A former partner had accused him of not disclosing his HIV status and, in Louisiana, that constituted a felony charge of intentional exposure to the AIDS virus.
It didn't matter that Suttle, who had learned about his HIV status several years earlier, had HIV, not AIDS. It didn't matter that he had been receiving medical care since he first learned his diagnosis and that he said he had disclosed his status. No one asked about whether his viral load was undetectable, which would prevent HIV transmission. It did not matter that, by 2008, HIV and AIDS were no longer considered the death sentence that they had been during the 1980s.
What did matter was that, in 1987, Louisiana had been one of the first states to pass a law making it a felony for a person who knows that they are HIV-positive to not disclose their status before engaging in any type of contact. Between 2011 and 2022, Louisiana state law enforcement received at least 137 reports alleging an HIV-related crime. Black Louisianans, particularly Black men like Suttle, were the majority of people arrested under HIV criminalization laws.
Louisiana's HIV law does not require actual transmission. It does not require proof that the person intended to transmit HIV to another person. In 2008, it also did not take into account that, if a person is taking their medications and has an undetectable viral load, they would not transmit HIV through sexual contact. That changed in 2018. Now, the state allows a person to present evidence that a doctor confirmed that they are not infectious and that they disclosed as an affirmative defense. Until 2018, the law also encompassed behaviors such as spitting, biting or throwing bodily fluids, even though the Centers for Disease Control and Prevention have stated that these carry a negligible risk of HIV transmission.
If convicted, Suttle faced a maximum of 10 years in prison and a $5,000 fine. At the time, Louisiana did not require that jurors unanimously vote to convict a person; if 10 of the 12 jurors thought that Suttle was guilty, he would be convicted and face the maximum sentence. (In 2018, Louisiana passed a constitutional amendment requiring unanimous juries for conviction.)
Then there was the fact that Suttle was Black and gay. While Black people made up slightly more than 50 percent of Shreveport's population, he still had to pass a monument depicting four Confederate generals before entering the courthouse in which he was to be tried. Meanwhile, homosexuality was still a taboo topic among many of the city's residents.
Suttle pled guilty to what he originally thought was two years of probation. What he didn't know was that a conviction — whether he was found guilty by a majority of jurors or he pled guilty to avoid the maximum sentence — required that he register as a sex offender for the next 15 years.
Today, Louisiana is one of 25 states with HIV-specific criminal laws, often called HIV criminalization laws because they apply only to people living with HIV. It is one of five states that requires people convicted under an HIV-specific law to register as a sex offender. According to a study by UCLA's Williams Institute, more than 63 percent of people on the state's sex offender registry are listed only because of an HIV-related conviction. Three-quarters of those on the registry for an HIV-related conviction are Black. Black men, who comprise about 15 percent of the state population, make up 48 percent of its sex offender registry and 63 percent of those registered because of an HIV conviction.
New York does not have laws that criminalize possible HIV exposure. But in 2014, when Suttle moved to New York City, he learned that he was still required to register as a sex offender, this time for 20 years. Now, he's challenging that requirement — and hoping the state's highest court will pave the way for others to stay off the registry for acts that are not illegal in New York.
States Are Still Imprisoning People for Having HIV
HIV treatment has come a long way since Louisiana passed its criminalization law in 1987. HIV is no longer considered a death threat. With medical treatment, a person's viral load can become undetectable, meaning that they would not transmit HIV to a sexual partner.
Still, states continue to prosecute people living with HIV for actions that would not be criminal if they were HIV-negative. In 2013, Michael Johnson, a 23-year-old Black gay college student and athlete in Missouri, was arrested on charges of "recklessly exposing" his sexual partners to HIV. At trial two years later, Johnson testified that he had disclosed his status to each of his sexual partners. The prosecution offered no genetic evidence that the viral strains of Johnson and another sexual partner matched. But none of that mattered to the jurors, 11 of whom were white and all of whom stated that they were HIV-negative and straight. They convicted him and, because Missouri law requires the jury to impose the sentence, sentenced Johnson to 30 years for HIV transmission and another 30.5 years for exposure. The judge ruled that the sentence would be served concurrently. In 2017, an appeals court found that his trial was "fundamentally unfair" and overturned his conviction. Johnson entered an Alford plea, or a plea in which he did not admit guilt, in exchange for a 10-year sentence. He walked out of prison in 2019. Unlike Suttle, Johnson was not required to register as a sex offender unless he moves to a state with a registry requirement.
Idaho is another of the 25 states with HIV-specific criminal laws. That is where Kerry Thomas is imprisoned for "transfer of bodily fluids which may contain HIV." As with Suttle, it didn't matter that the sex was between two consenting adults. It also didn't matter that he did not transmit HIV to his sexual partner. What did matter was that he was HIV-positive and accused of not disclosing his status to his then-partner. Thomas, who had previously been imprisoned on similar charges and had been on parole when he was accused again in 2009, was sentenced to 30 years in prison. He remains in prison today.
It's nearly impossible to track how many people have been prosecuted under these HIV criminalization laws, Jada Hicks, staff attorney for the Center for HIV Law and Policy, told Truthout. The Williams Institute of UCLA, which focuses on sexual orientation, gender identity and public policy, has released reports on HIV criminalization in several states, including Louisiana, by requesting information from each local prosecutor's office.
"Even then, we're not really able to track data," Hicks told Truthout. "If someone gets a plea deal, and they plead to a lesser charge, sometimes we're not able to know which stigmatized disease they're being prosecuted for if the statute criminalizes both HIV and hepatitis. That makes it a little bit difficult for overall trends."
Even with that incomplete data, she said, "what we have been able to learn is that it's largely marginalized communities that are facing prosecution [for HIV], especially communities that already have more contact with the carceral system in general."
Thirteen states have reformed or completely repealed their HIV criminalization laws. In 2018, Louisiana added three affirmative defenses that a person accused of intentional exposure can employ: if they can prove that the exposed person was already aware of their partner's HIV status, if a physician had already confirmed that a person was noninfectious and disclosed their status, and/or if the accused person disclosed their status and took measures to prevent transmission (such as using a condom). All three affirmative defenses rely on proving that the accused person disclosed their status. In 2021, Missouri modernized its law to limit prosecution to people who had "knowingly" exposed others to HIV, creating a higher burden of proof on prosecutors, and lowered the mandatory minimum sentence from 10 years to three.
The Push for Decriminalization
Under the New York Sex Offender Registration Act (or SORA), Suttle appeared at a hearing where he argued that it was unconstitutional to apply the state's reciprocity provision for sex offender registration based on conduct that is not illegal in New York State. He also argued that labeling him a sex offender was a violation under both New York and federal law of his right to due process, equal protection and privacy, since it singled him out for criminalization based on conduct (consensual sex between adults) that is lawful for everyone else.
The court rejected his argument and required him to register as a level-one offender. That meant that, unlike in Louisiana, his conviction would not be listed in online sex offender databases. A person could still obtain limited information about Suttle's status if they called the Division of Criminal Justice Services, but even then, they would learn only that he was convicted of a "non-NYS felony offense." His status would still show up on background checks for housing and employment, requiring him to explain why he was on the registry. "My status is tied to my felony," he told Truthout. "There's no 'let me tell you just one part.'"
Suttle and his attorneys at the Legal Aid Society filed an appeal with New York's Court of Appeals, the state's highest court. The court has yet to decide whether to hear his appeal.
In August 2022, one month after attending a White House conference of prosecutors about cases involving HIV, Manhattan District Attorney Alvin Bragg filed a brief to the appellate court opposing Suttle's appeal. Although he stated that his office does not support criminal statutes that target people with HIV or AIDS, his brief argued that registering as a level-one offender does not risk revealing Suttle's health information. Even if it did, his brief continued, the name of the crime under which Suttle was convicted is not confidential information under the state's public health law. Bragg also argued that, because of Suttle's anti-criminalization advocacy in which he talked about his experiences, he had "waived any right to confidentiality in his HIV status."
But the New York sex offender registry is more than a list, explained Kae Greenberg, another staff attorney for the Center for HIV Law and Policy. It comes with an onerous set of requirements that, if missed, can result in further prosecution and imprisonment. "There's a requirement that, if he moves, he has to register [within 10 days]. If he misses the appointment [to register each year], are they going to criminally prosecute him for a felony as permitted by law, or not because they claim they do not agree with the Louisiana law that requires him to register? There's a huge number of things that people [on the registry] need to comply with and keep on top of — and the consequences for not [doing so] are egregious," Greenberg told Truthout.
In January 2023, the Center for HIV Law and Policy filed an amicus brief urging the appeals court to hear Suttle's case. The Center argued that requiring people who have to register as sex offenders in another state to do so in New York without an individualized assessment violates the Americans with Disabilities Act (or ADA). So does Louisiana's "intentional exposure to HIV" statute, since the ADA prohibits state discrimination against people living with HIV.
"We didn't just argue against the law, as applied in Robert's case, but also as written — that it's over-broad under the ADA because it doesn't allow for any kind of individualized assessment for people living with a disability such as HIV. We also argue that Robert is being additionally punished, stigmatized, and restricted in New York due to his HIV status in such a way that is in direct contravention of New York's public policy and efforts to protect people living with HIV from discrimination," said Greenberg. If the court decides to hear Suttle's appeal and rules in his favor, at the very least Suttle would be released from the registry and others would have legal precedent for their appeals.
If the court rules in favor of the argument that the law is overly broad, as applied, it could have bearings on whether the state can require sex offender registry for acts that are not illegal in New York. For instance, in 2003, the U.S. Supreme Court struck down laws criminalizing consensual same-sex activity (commonly referred to as sodomy laws) in Lawrence v Texas. But as late as 2021, Idaho, South Carolina and Mississippi still required sex offender registration for people convicted of sodomy before 2003. In 2022, Idaho agreed to create a policy to remove people with similar convictions from the registry, while South Carolina was ordered by the courts to remove all people convicted of sodomy from its registry. Mississippi courts, however, still uphold the criminalization of oral and anal sex.
The Center's brief also noted that, following the Supreme Court ruling in Dobbs v. Jackson Women's Health Organization, New York's legislature passed laws to avoid being required to enforce other states' laws, particularly those criminalizing abortion, that are contrary to New York policy. Following Dobbs, Bragg was one of 90 prosecutors who signed a public statement that they would not prosecute those who seek, assist in or provide abortions.
When asked if New York would enact reciprocal registration requirements for those forced to register under their home state's anti-gay laws, Emily Tuttle, spokesperson for the Manhattan district attorney's office, wrote, "D.A. Bragg does not support HIV-specific exposure laws, which were enacted based on outdated science. The Office is doing everything we can within the confines of the law, and we decline further comment given pending litigation."
The Court of Appeals can decide not to hear Suttle's appeal, in which case he would have to take his case before the U.S. Supreme Court. "If the court does not hear Robert's case, it means we have some work to do in the legislature to remove the registration requirement," said Hicks. "In the DA's response, they say that this statute has created an unintended consequence, and that it's the prerogative of the legislature, not the court, to correct it. The People [meaning the DA's office] support a legislative amendment to the foreign registration provision, [to] remove registration requirements in circumstances like these. I think it's important for us as advocates to hold them to that."
From prison in Idaho, which does not require people convicted under its HIV laws to register as sex offenders, Kerry Thomas was appalled when he learned of Suttle's additional punishment — and the Manhattan district attorney's conflation of confidentiality versus privacy. "There is more to confidentiality than being public or, as in this case, speaking publicly. It is more about personal choice regardless of a person's HIV status. There is also a difference in being secretive and being private," he wrote in a message to Truthout.
"Criminalization is not prevention," Thomas continued. "Treatment is prevention. All parties need to be encouraged to be tested and if needed, begin treatment as soon as possible. Therefore, requiring a person to register is breaking confidentiality and advancing the stigma associated with HIV/AIDS. Furthermore, with the advancement of HIV treatment as prevention (U=U) what is the community interest in having an HIV-positive person register as a sex offender?"