Recommendations for Updates to the National HIV/AIDS Strategy (2015)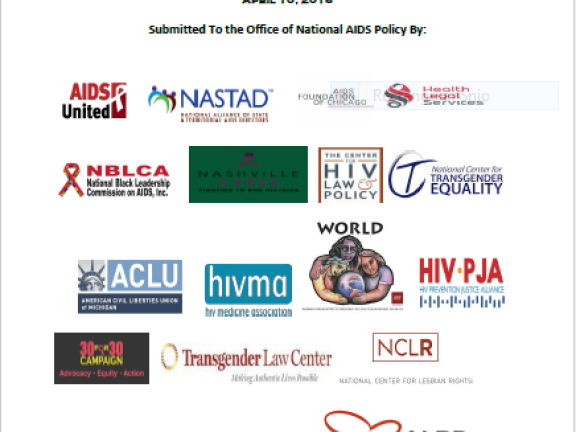 Nineteen organizations and individuals joined and endorsed The Center for HIV Law and Policy's statement of recommendations for updates to the National HIV/AIDS Strategy (NHAS). The recommendations were submitted to Douglas Brooks, Director of the Office of National AIDS Policy, which formulates the strategy. The release date for the updated NHAS is July 30, 2015.
Originally Issued in 2010, the NHAS and accompanying implementation plan was the first federal government document to identify HIV criminal laws as a symptom and driver of stigma that discourages testing and engagement in health care. Its publication represented an extremely important step towards a more foreword-thinking, nationally collaborative approach to addressing the HIV epidemic in the United States.
CHLP's recommended updates ask the NHAS to advance those initial steps by 1) more explicitly addressing the significant obstacle posed by widespread sexual health illiteracy –the profound ignorance about both the routes, risks and realities of HIV transmission, and about sexual orientation, gender identity and the unique form of bias that transgender individuals experience in seeking sexual health and HIV care; and 2) directing federal agencies, particularly the U.S. Department of Justice and the Centers for Disease Control and Prevention, to concretely follow-up on 2014 agency guidance on HIV criminal laws and the issues these laws raise with respect to stigma and engagement in health care.
The Center for HIV Law and Policy also joined with Human Rights Watch and a dozen other organizations in a letter to the Office of National AIDS Policy, requesting that it do more to address issues of HIV among stigmatized and criminalized populations within the United States, specifically LGBT persons, sex workers, drug users and prisoners. The letter calls for the creation of a task force to examine the impact of criminal laws on vulnerability to HIV infection and access to HIV prevention and treatment programs, and to develop short and long-term recommendations for removing criminal justice related barriers and facilitating positive engagement from law enforcement officials at the local, state and federal levels.
The Positive Women's Network USA (PWN-USA) also issued a statement, called Women with HIV Must Be a Priority in the Next US National HIV/AIDS Strategy, recommending 5 priority actions vital to the survival and well-being of women living with HIV consideration by the Office of National AIDS Policy (ONAP) in developing the next National HIV/AIDS Strategy.