In the News: Science battles politics in growing state-by-state debate over HIV felony charges (2017)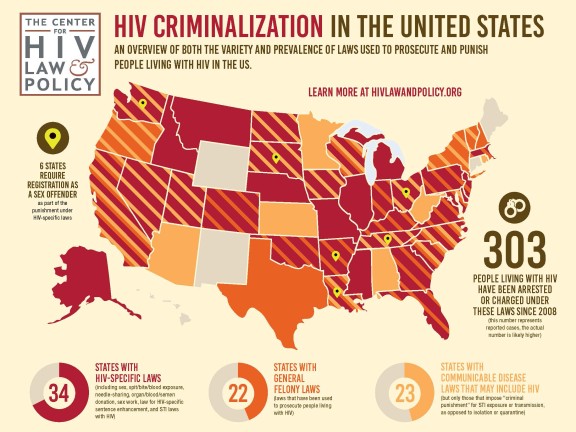 Science battles politics in growing state-by-state debate over HIV felony charges
by Jessica Mathews, cnbc.com
Tuesday, November 7, 2017
In six U.S. states, individuals living with HIV who are found guilty of knowingly exposing a partner are required to be registered as a sex offender. They can face felony charges, or felony-level punishments, in 32 states.
But as breakthrough HIV drug treatments and medical studies show there is essentially no risk of sexually exposing someone to HIV while taking antiretroviral drug therapy (ART), states are being forced to play catch-up to the science, and stigma, of the AIDS virus.
There are 1.1 million people living with HIV in America, according to the Centers for Disease Control and Prevention. Between 2003 and 2013, ProPublica reported (in the most recent data available) 2,352 records of HIV-related charges, with at least 541 convictions or guilty pleas.
"It's not easy to get people to agree with science," said Bruce Richman, executive director at the Prevention Access Campaign, an organization that seeks to provide the public with accurate information about HIV exposure. "It conflicts with their long, deeply held beliefs about transmission risks."
Last month Gov. Jerry Brown signed bill SB 239, making California the fourth state to rewrite HIV exposure laws that were enacted in the 1990s during the AIDS epidemic. Before the legislative reform, a person living with HIV who violated the California law could spend eight years in prison, with additional time if the person was a sex worker. The punishment resembled a typical sentence for voluntary manslaughter — three, six or 11 years in prison.
The bill reduced charges from a felony to a misdemeanor, with maximum sentencing in a county jail now set at six months, and is no longer HIV-specific but includes other communicable diseases, such as hepatitis. Anyone who intentionally attempts to transmit a disease without success will be charged with a misdemeanor with a maximum sentence of 90 days.
While the bill passed in the California Assembly 44-13, not all legislators agreed with the decision.
"I'm of the mind that if you purposefully inflict another with a disease that alters their lifestyle the rest of their life, puts them on a regimen of medications to maintain any kind of normalcy, it should be a felony. It's absolutely crazy to me that we should go light on this," Sen. Joel Anderson said as he debated the bill, according to a report in the Los Angeles Times.
"This isn't about making people sick; it's about people living with HIV being able to live their lives and not be subject to felonies that people with other communicable diseases are not subject to," said Jo Michael, legislative manager at LGBT advocacy group Equality California. In fact, Michael said this legislation will lead to more individuals seeking treatment. "HIV was singled out, and that increases the stigma," Michael said. "If you want to lower new infection rates and have fewer people living with it over time, addressing the disparity in discrimination is a way to do it."
Two recent medical studies — the PARTNER study, which followed 900 heterosexual and gay couples for 16 months; and Opposites Attract study, which followed 358 gay couples — have determined that the risk of transmission while taking ART is effectively zero.
"We can achieve full suppression of viral replication, and we know from the data: If the medication is taken continuously and over the time of the infection, there is no breakthrough infection anymore," said Hendrik Streeck, director of the Institute of HIV Research at the University Duisburg-Essen in Germany, which conducts research on therapy methods and vaccine development.
Without taking ART, condoms and PrEP (a medicine that lowers the risk of infection), reduce the risk of getting HIV by more than 90 percent.
Scientists from the National Institutes of Health and Paris-based pharmaceutical company Sanofi are also moving closer to developing a vaccine for AIDS.
According to research at the William Institute of Law at UCLA, the California law before its reform disproportionately affected women and people of color, and 95 percent of HIV-specific criminal incidents impacted sex workers or suspected sex workers.
Recent CDC statistics show that individuals living below the poverty line are two times more likely to be HIV-positive than those living above it.
States are still resistant to reforming HIV laws
Despite the latest science, many states remain hesitant to change laws adopted in the 1990s. In total, 29 states impose felonies on an individual who fails to disclose their HIV status before sex, and three states (Louisiana, Minnesota and New Jersey) impose punishments equivalent to that of a felony offense, with sentences of at least two years in prison.
In Tennessee a person living with HIV who knowingly exposes others can be quarantined by the state's Department of Health "after exercising other appropriate measures" if he or she is determined to be a threat to the public. This health code does not require a conviction under the Tennessee HIV-exposure law.
State HIV criminal laws stem from a federal initiative in 1990 under the Ryan White Comprehensive AIDS Resources Emergency Act, which made funding for AIDS treatment and care contingent on states passing laws to prosecute individuals who knowingly exposed someone to HIV.
In 1995, AIDS was the leading cause of deaths for adults 25 to 44 years old. There were 51,414 deaths that year, the peak of the epidemic. Since new drugs to treat HIV became available between 1995 and 1996, the number of HIV-related deaths per year in the United States have sharply declined. In 2014 there were 6,721 deaths, according to the Centers for Disease Control and Prevention.
Iowa was among the first states to take small steps in reforming HIV laws, along with Colorado. In 2014, Iowa eliminated a requirement for convicted individuals to register as sex offenders, and it created a tiered penalty system, which now looks at whether transmission of HIV occurred and whether or not exposure was intentional. Additionally, other diseases were elevated to be included under the law, such as hepatitis or tuberculosis. However, someone who exposes a partner to HIV can still face up to five years in prison — up to 25 years in prison if the virus is transmitted.
In 2016, Colorado eliminated felony penalty enhancements involving sex workers living with HIV and modernized language having to do with HIV and other sexually transmitted infections in its public health code. It also reduced the sentence enhancement for sexual assault if a person is HIV-positive to twice the original sentence and requires proof of transmission.
Catherine Hanssens, executive director of The Center for HIV Law & Policy, says these state measures still don't reflect the latest science regarding HIV.
"The rest of the country does not understand that it is not easily transmittable and easily manageable," Hanssens said. "[HIV] is serious, but it can be managed."
Advocates are pushing against many state legislatures that show little inclination to reform their laws.
"There are efforts to change the laws under way across the country from Florida to Ohio to Washington state," said Kate Boulton, staff attorney at the HIV Center for Law & Policy. She says it is a highly complex process, depending on the political climate of the states.
"It has a lot to do with how the individual legislation works and how connected to policymakers the advocates are," Hanssens said.
An Ohio Supreme Court challenge fails
Ohio could have been the next state to reform their HIV criminalization laws, but the Ohio Supreme Court decided to uphold its current HIV codes in a ruling on Oct. 27. Orlando Batista appealed after being charged with a second-degree felony assault in 2016 for transmitting HIV to his girlfriend without disclosure and receiving a charge of eight years in prison.
The American Civil Liberties Union advised the court that his conviction violated the equal-protection clause by singling out people living with HIV, and it forced disclosure of personal medical diseases that violated his right to freedom of speech.
Elizabeth Bonham, staff attorney at ACLU, had been hopeful the law would be struck down in its entirety. "This was a disappointing decision and a setback for the rights of people living with HIV, but we will continue fighting against the stigma and against criminalization," she said in an email the day the Supreme Court decision was released.
In Georgia, reform of HIV laws might take even longer, as advocates are still in the process of trying to update their legislators on the medical science of HIV transmission.
"I live in a state where legislators aren't educated on HIV. The laws don't protect me. ... There is no room for defense for people like myself," said Nina Martinez, who was diagnosed with transfusion-acquired HIV (passed along through blood) when she was 8 years old.
Martinez was present last week when Georgia State Legislator Betty Price — former Trump Department of Health and Human Services Secretary Tom Price's wife — used the word "quarantine" in a suggestion for how to stop the spread of HIV in a meeting on improving health-care access.
"I feel like we're back in the '90s, but we're in 2017," Martinez said.
In Indiana the health codes are tied to HIV laws. Individuals given an HIV-positive diagnosis are asked to sign an acknowledgement that their health providers have a "duty to warn" — meaning doctors and health-care providers are permitted to break client/patient confidentiality agreements in cases having to do with HIV exposure. This could make people less likely to seek out a diagnosis or disclose information to their therapists or doctors.
"Health providers become an extension of the laws," said Carrie Foote, chair of the HIV Modernization Movement in Indiana, which was formed last summer.
People living with HIV caught in the crosshairs
Aside from health providers, residents who seek diagnosis open themselves to potential criminal action merely by knowing their status. "If you don't know your HIV status, it's not a crime," Foote said.
Travis Spoor was diagnosed with HIV in 2012, but he had never been linked to care when he was sentenced to three years in prison in Indiana for failing to disclose his HIV status to a sexual partner, even though he did not transmit HIV. Foote said it will be incredibly difficult for him to start getting treatment in the Indiana jails, since he had not been receiving care before his arrest.
"He should have been linked to care. Our system failed him, and it's still failing him," Foote said.
HIV is the only disease criminalized under Indiana laws. "It is not based on whether someone intended to harm or did harm. It's based solely on their HIV status," Foote said.
EQCA legislative manager Michael said, "Wherever laws like this exist, they are harming people."
Nationally, California Congresswoman Barbara Lee reintroduced the REPEAL (Repeal Existing Policies that Encourage and Allow Legal) HIV Discrimination Act in the House for the third time in March 2017, requesting that the Department of Justice, Department of Health and Human Services and the Department of Defense review and modernize federal and state law regarding HIV-positive individuals. The same bill was introduced twice by Delaware Sen. Christopher Coons in the Senate and rejected both times.
"I don't think this has particularly strong prospects in the current congressional climate," said Boulton in an email.
Indiana HIV activist Foote remains determined.
"It shouldn't matter how liberal or conservative your state is. It has to do with the fact that we have a health epidemic," she said. "We have a public health issue. In this case, states are using the state law in an unwarranted way to treat a health issue, where there's no evidence that works. … [HIV] criminalization has a unit effect, a family effect, and it has a ripple. It negatively affects all of us."
— By Jessica Mathews, special to CNBC.com