Justice for Nushawn Williams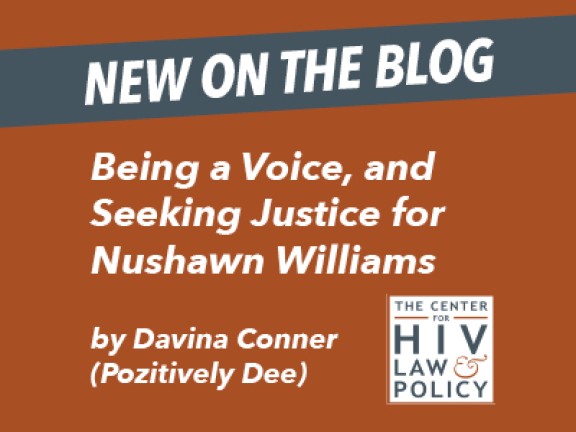 Guest blogger Davina Conner (Positively Dee) weighs in on Nushawn Williams.
Justice for Nushawn Williams
by Davina Conner (Pozitively Dee)
This is not to offend anyone at all and If you have nothing good to say I suggest not say anything at all.
I am against HIV criminalization and I always say It could have been me that was criminalized some years ago for not disclosing my status (but don't get me wrong when someone has been raped or molested I have a different stand). It's not fair that this is the only virus that individuals are held accountable for. I have participated in many webinars held by different organizations on criminalization and I do that so I can use what I learned and share it with others. 
My question to everyone is why advocate for so many that have been criminalized for HIV or advocate against mass incarceration, but as soon as the name NuShawn Williams is mentioned no one has much to say. Although some may feel he is a child molester or sex offender, it's sad to say that if you don't know the full story and go by what the media portrayed, how can one really know the full case? How do you know if he knew he was diagnosed with HIV? Has anyone ever took the time to talk with him? 18, 19 years old, scared into pleading guilty happens a lot within our judicial system, especially when it comes to being black.
#1: a black man with no funds for an attorney
#2: you'll get 20 years or more if you don't take the deal
#3: 6 years is a good deal because you'll be out to still have years with your family
Tell me what you would have done at that age being scared? He took the deal so he could be home in 6 years--6 years have come and gone because he was put in civil confinement after he served his time. He's now 41 years old. Hell, he might as well have taken the 20 years instead of the deal because he's still not out, hasn't been allowed to see his family, and he still has not seen beyond those walls, which I feel is unjust mass incarceration. I feel there are too many advocates that say they are against HIV criminalization and some who advocate against mass incarceration, but when it comes to Nushawn Williams there is silence. 
Have you ever heard the cry from a grown man who has never had anyone by his side in 20 years? Can you imagine living in civil confinement not knowing if you will die there by the hands of the employees who treat you like crap? Put away behind walls with men who look for kids to molest, follow women to rape and men who are sexually demented? NuShawn Williams is housed with these kinds of men. One cannot understand until they hear his truth, his voice, and his words. I say, judge not until you get the full story of a young black man who was chosen because they had to choose someone to make a case. 
I am looking for organizations, advocates but more so advocates in New York that can help be a voice for him. I am working on a date to meet with the Center for HIV Law and Policy in New York. I will not rest until something is done for our brother and he is walking out of this facility.
Davina Conner (Pozitively Dee) is an HIV advocate, activist, vlogger, and blogger who hosts a live call-in talk radio/podcast show called "Pozitively Dee Discussion" on blogtalkradio.com/blogtalkusa