It's the International Day to End Violence Against Sex Workers…and HIV Criminal Laws That Make Felons of Sex Workers Is a Form of Violence We Can't Tolerate (2018)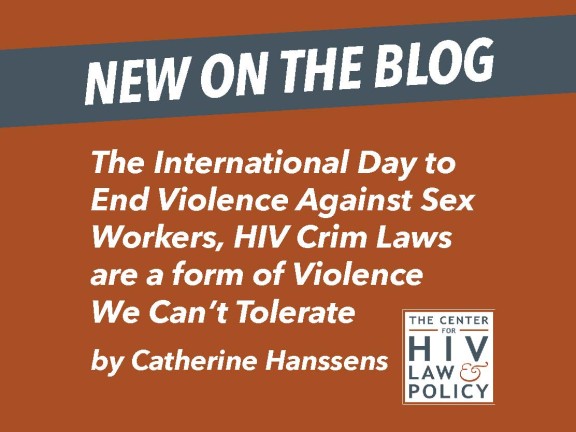 Late October 2018, we blogged about the UCLA Williams Institute's third report on who is being arrested, prosecuted and convicted under HIV criminal laws. The many months of research and evidence summarized in Williams' investigative reports all reached the same conclusion in Florida, Georgia and California: sex workers are being arrested, convicted and incarcerated for HIV offenses at a far greater rate than those who are not sex workers. And in Florida and Georgia, women who are sex workers are being convicted at a much greater rate than sex workers who are men.
As Mateo De La Torre of the National Center for Transgender Equality noted today in a blog post, "The Day to End Violence has grown … to a worldwide day of reflection, activism, and protest. On this day, it's more important than ever to understand how overly-broad policies … can impact a community already vulnerable to alienation, criminalization, and violence."
Advocates for reforms that focus on a state's HIV criminal law while leaving sex workers behind argue that reducing the harm posed by the section of the law affecting fewer than half of those arrested is better than nothing. But nothing is still nothing for sex workers in this kind of deal. In the end, "trickle-down" justice is a rationalization by those with more power for why those with less power are a political liability warranting their exclusion.
Criminalizing sex work causes real harm without any benefits for public health and safety. The additional jeopardy of criminalizing even solicitation as a felony when a sex worker is living with HIV is unacceptable. More than a dozen U.S. states and territories have unique felony punishments for PLHIV who are convicted of prostitution or solicitation offenses.
If we believe that violence against sex workers must be protested and must end, we should protest and end the criminal laws that put a government seal of approval on this violence.