Event: Saturday, May 4: CHLP Provides National Perspective on HIV Criminalization for Kansas City-based Mapping Stigma Project (2019)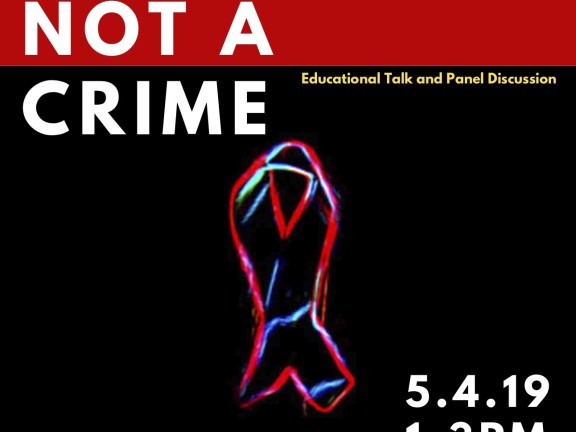 HIV Is Not a Crime
Talk and Panel Discussion
Saturday, May 4 at 1:00pm
Leedy-Voulkos Art Center
Kansas City, Missouri
The Center for HIV Law and Policy participated in a panel discussion on HIV criminalization as part of the educational programming accompanying GK Callahan's exhibit, Mapping Stigma: An Archive of the Contracting An Issue Project, at Leedy-Volkous Art Center from May 3 to July 27, 2019.
Mapping Stigma presents archival and new works from GK Callahan's ongoing study of the social issues surrounding HIV/AIDS. Curated by Kansas City art critic and curator Blair Schulman, this work calls attention to the cultural responses around the criminalization, representation, and stigmatization of HIV/AIDS. The layered visual presentations include photography, video, and works on paper, and feature work from the Zekana women of Tanzania, Bruce Burstert, and other collaborators. The gallery also features a reading space with an open source library on HIV criminalization.
Today, 34 states have HIV-specific criminal laws and/or sentence enhancements applicable to people living with HIV. Missouri prosecutes and punishes the inability to prove HIV disclosure prior to sex or needle sharing with 5 to 30 years in prison, even when no transmission occurs. Throughout the U.S., these laws vary in detail, but many are harsh in nature and disproportionately affect people of color and the transgender community. 
The May 4 panel presentation featured national and local perspectives on HIV criminalization, including from a Missouri resident who was affected by HIV criminal laws. CHLP Staff Attorney Jada Hicks discussed the national landscape of HIV criminalization and joined panelists LaTrischa Miles, KC Care Health Center; Evonnia Wood, Reproaction; Robert Richardson, MO HIV Justice Coalition, and; Jeanette Mott Oxford, Executive Director, Empower Missouri. The panel was hosted by community organizer Diane Burkholder and artist GK Callahan.