CHLP Releases Up-To-Date Analysis of U.S. Laws That Criminalize Disease (2020)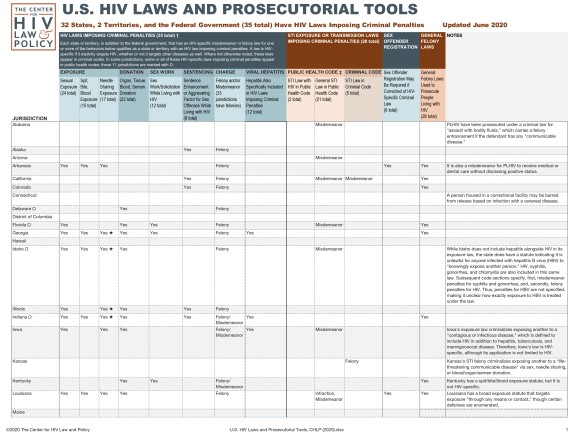 FOR IMMEDIATE RELEASE: June 23, 2020
CONTACT: Catherine Hanssens, 347-622-1400, chanssens@hivlawandpolicy.org
The Center for HIV Law and Policy Releases Up-To-Date Analysis of U.S. Laws That Criminalize Disease
(NEW YORK, NY) -- The Center for HIV Law and Policy (CHLP) today released a newly revised publication, U.S. HIV Laws and Prosecutorial Tools, summarizing the federal and state laws used to prosecute people living with HIV (PLHIV), viral hepatitis, and other sexually transmitted diseases. The chart provides a current, detailed review of the variety of laws and range of penalties used to criminalize stigmatized diseases and identities in the military and in all U.S. states and territories.
"This publication should offer invaluable guidance for all the amazing people, especially non-lawyers, fighting the criminalization of infectious disease", says Marguerite Schauer, CHLP Interim Staff Attorney, who contributed new developments and analysis to the chart. "My hope is that advocates from every corner of the country might gain knowledge on the lesser-known aspects of the law in their own states while having an efficient view of all the ways their laws contrast with other states' laws. The chart is also an ideal starting point for a deeper dive into the law through other CHLP resources."
U.S. HIV Laws and Prosecutorial Tools draws from the unique legal analysis in CHLP's publication HIV Criminalization in the U.S.: A Sourcebook on State and Federal HIV Criminal Law and Practice, distilling the Sourcebook's 600+ pages of legal research and analysis into an easy-to-use chart highlighting the criminal laws and public health codes used to prosecute people living with HIV and other diseases. The resource is intended to support state advocates, policymakers, lobbyists, journalists, and the broader national Positive Justice Project (PJP) work to reform laws that target primarily Black women and men.
"Providing accurate educational information is the nexus of the work in modernizing HIV criminalization statutes across the country. The new and updated state-by-state chart on U.S. HIV Laws and Prosecutorial Tools is a gamechanger in elevating the education of advocates, policymakers and community stakeholders," Timothy S. Jackson, Director of Government Relations at AIDS Foundation Chicago.
The chart pulls apart and categorizes the information on the laws enabling easy comparisons among states, including the many states that criminalize diseases other than HIV, or that create felony penalties for sex workers who are living with HIV or viral hepatitis. It includes the type of behavior that is criminalized, whether there are general STI criminal statutes, whether there is sex offender registration, and whether general felony statutes have been used to prosecute PLHIV.
"Having a comparison of the current statutes is an invaluable tool for local advocates to address the needs and to create strategies that reform the criminalization of health in the U.S.," says Dorian-Gray Alexander, Member, Louisiana Coalition on Criminalization and Health. "This bird's eye view provides detailed information in a nutshell in a format that is easy to digest. Thank you, CHLP!"
Thirty-two states and two territories have HIV-specific laws that impose criminal penalties; many also target other diseases and identities, including sex workers. For example, there are 12 states that impose felony sentences for sex work or solicitation if the person charged is living with HIV. In three of those states--Florida, California and Georgia--research shows that sex workers have borne the overwhelming brunt of HIV-related felony convictions.
"Literacy on the law cannot be underestimated as a powerful tool to undercut the exclusion of people from advocacy, reform, and abolition work. For years one of the most significant barriers to organizing has been the fact that these laws and the criminal legal system in general are created to be understood only by a select few. A resource like the U.S. HIV Law Chart shatters that inaccessibility and gives everyone the opportunity to be a changemaker," says Amir Sadeghi, CHLP National Community Outreach Coordinator.
"Thank y'all sincerely for creating this valuable tool packed with information and formatted in a way that provides us with simple easy to understand talking points," says Noah Raper, Tennessee advocate and member of the Positive Justice Project's national Advisory Group. "If a lawmaker asks me about other states, they like to do that for some reason, I'll be able to answer."
##