CHLP Joins The Well Project in a Webinar and Resource Sharing for National Women and Girls HIV/AIDS Awareness Day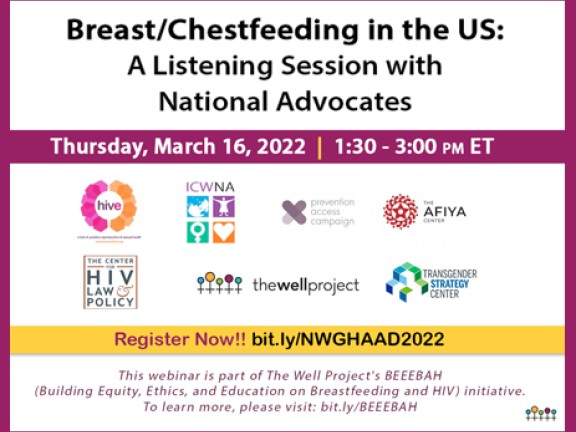 On March 10, 2022, National Women and Girls HIV/AIDS Awareness Day, CHLP recognized the work of our friends and partners at The Well Project by sharing a series of infographics they developed to raise awareness and highlight important facts related to breast/chestfeeding and HIV in the US.
And CHLP's Founding Executive Director Catherine Hanssens joined The Well Project for a #NWGHAAD webinar on Wednesday, March 16, that brought together US-based organizations committed to ensuring that parents living with HIV are able to make the best infant-feeding decisions for themselves and their babies -– including HIVE, ICW-NA, Prevention Access Campaign, CHLP, The Afiya Center, and Transgender Strategy Center. A recording of the webinar is below.
The Well Project recently launched BEEEBAH (Building Equity, Ethics, and Education on Breastfeeding and HIV), part of their work to address the lack of women-specific information and representation across all areas of HIV prevention, care, research, and policy. BEEEBAH, received a grant from ViiV Healthcare's Positive Action for Women initiative and will work to address a number of the key programmatic goals identified in the Expert Consensus Statement on Breastfeeding* and HIV in the United States and Canada, a project for which CHLP is a proud contributor. ViiV is also a supporter of CHLP's work.