AIDSVu Partners with CHLP on New HIV Criminalization Resources (2021)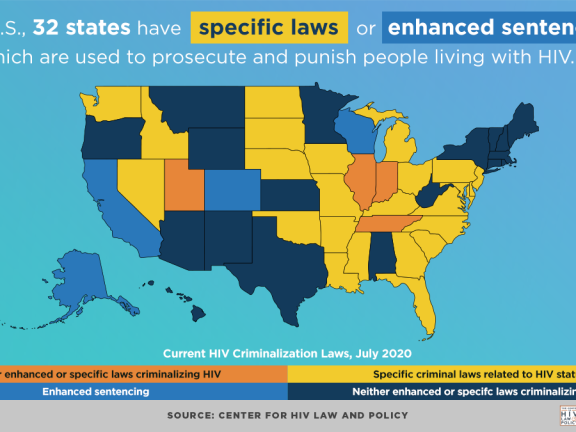 CHLP and AIDSVu have partnered to expand the reach of vital information about HIV criminalization law and prosecutions through new data and comparison maps and other resources. AIDSVu.org is an interactive online mapping tool that visualizes data on the U.S. HIV epidemic, a project of Emory University and Gilead Sciences, Inc.
In 2020, 68% of people living with HIV in the U.S. resided in the 32 states with specific laws or enhanced sentencing against people living with PLHIV.  These laws show a lack of understanding of HIV, reflecting false assumptions – for example, criminalizing biting or spitting by PLHIV even though you cannot transmit HIV through saliva. HIV criminalization laws have also been shown to discourage HIV testing, perpetuate stigma against PLHIV, and exacerbate disparities. And these laws disproportionately affect marginalized populations such as communities of color, transgender women, and sex workers. 
Along with data new insights, AIDSVu is featuring conversations with leaders and activists in the movement who are advocating for meaningful HIV criminalization reforms and repeals across the country.
HIV Criminalization: AIDSVu launches new data and comparison maps visualizing state-level HIV criminalization laws and HIV prosecution in partnership with CHLP.
Catherine Hanssens on HIV Criminalization in the U.S.: A conversation with movement leaders advocating for meaningful HIV criminalization reforms and repeals across the country.
DEEPER LOOK: HIV Criminalization: More insight into the history and legal context of HIV criminalization, as well as the advocacy efforts to decriminalize HIV in various states.
Infographics: Sharables to raise awareness in social networks.